New Clinical Trials for Diabetes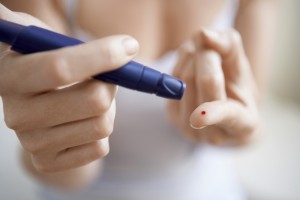 Currently there is no cure or method of preventing type 1 diabetes. However, many recent clinical trials for type 1 diabetes have seen encouraging results. Some of these focus on trying to stop the destruction of insulin producing cells. Others research changing the cells that attack to cells that help, also known as "acquired immune tolerance". In general though, researchers are looking to develop better treatments for diabetes.
Current type 1 diabetes clinical studies are also looking at the effect of diet on the condition and its associated symptoms. A large study is underway in Europe and the U.S. that is studying a possible vaccine as a preventative cure. If you have been diagnosed with type 1 diabetes you may qualify to participate in an ongoing type 1 diabetes clinical trials. Please review the list of our current clinical trials and contact us if you are interested in participating.
What is Type 1 Diabetes?
Type 1 diabetes, also known as Juvenile Diabetes or IDDM, is caused when insulin-producing cells are attacked and not enough insulin is produced. Type 1 diabetes generally occurs in otherwise healthy people before the age of 20. The symptoms of T1D include frequent urination, thirst, hunger, and weight loss.
Type 1 Diabetes Treatments
Overwhelmingly, the most common treatment for type 1 diabetes is insulin replacement therapy. This involves constant monitoring of insulin levels. Insulin is then adjusted as needed and administered either through injection or pumps.
While in some cases pancreas transplantation may be used as treatment for type 1 diabetes, this is considered a dangerous operation. Currently there is no cure for Type 1 Diabetes and insulin levels must be monitored throughout the patient's life. If the type 1 diabetes treatments are done correctly the person can lead a normal life fairly unaffected by their condition. Problems arise when levels are not monitored and not adjusted accordingly.
New Clinical Trials for Type 2 Diabetes
Type 2 diabetes clinical research focuses on ways to improve the lives and lifespan of those suffering from this condition. Certain research also looks at the correlation between type 2 diabetes and other health issues.
It is the goal in conducting type 2 diabetes clinical studies to determine better ways of preventing and managing this condition.
If you or someone you know has been diagnosed with type 2 diabetes and are interested in taking part in a type 2 diabetes clinical trial, please review the list of available trials and contact us.
What is Type 2 Diabetes?
Type 2 diabetes, also known as NIDDM or Adult Onset Diabetes, is a metabolic disorder caused by high blood glucose levels. Unlike type 1 diabetes, type 2 diabetes is caused by a combination of genetic and lifestyle factors and usually occurs in adulthood. Rather than a problem with the production of insulin, type 2 diabetes is a problem with how cells respond to insulin. Contributing lifestyle factors include obesity, smoking, drinking alcohol, and lack of exercise. Other factors that can potentially cause or aggravate type 2 diabetes include hypertension, elevated cholesterol, acromegaly, Cushing's syndrome, chronic pancreatitis, and cancer. Symptoms of type 2 diabetes include frequent urination, thirst, hunger, and weight loss.
Type 2 Diabetes Treatments
The best prevention or treatment for type 2 diabetes is to change the lifestyle factors that are causing the condition. This includes losing weight, eating a more nutritious diet, getting more exercise, and not smoking or drinking alcohol. Medical ways of treating type 2 diabetes include taking Metformin pills and administering insulin injections. It is estimated that over 150 million people worldwide suffer from type 2 diabetes. With rates doubling between 1999 and 2005 the CDC has declared this to be an epidemic.