Avail Clinical Research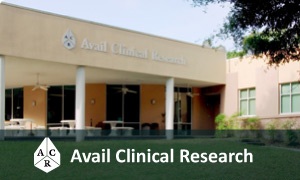 Site Overview
Avail Clinical Research is a renowned and experienced clinical research site conducting Phase I-IV clinical trials. These clinical trials test investigational treatments and therapies being developed by pharmaceutical and biotech companies. Clinical trials are designed to evaluate the safety and efficacy of innovative drugs and treatments in humans. Avail is currently offering a variety of clinical trials and research studies in which you can participate.
We are looking for volunteers to participate in these clinical trials and clinical research studies. When you participate in a clinical trial, you receive all treatments and medical care related to the trial at no cost to you. You may also be compensated for your time and travel while participating. In addition, as a clinical trial volunteer, you are helping to advance the knowledge acquired about your condition, thereby assisting with finding a treatment or cure.
We are dedicated to educating and informing you about clinical trials so that you can make an informed decision about your participation. Please browse our website to learn more about the clinical research trials that we conduct, the physicians involved, and details on our best-in-class facilities. If you are interested in participating, please see our wide selection of available clinical trials and research studies. Tell us a little more about yourself and Avail can assist in placing you into the right trial or study group.
Therapeutic Areas
Avail Clinical Research is currently conducting a wide array of clinical studies targeted towards certain conditions. You may be eligible to participate in one of our clinical trials and contribute to the development and approval of a new drug or treatment. As a participant, there is no cost to you at any point during the study and health insurance is not required. Browse our clinical trials being conducted now to find the study best suited for you.
Adolescent Smoking Cessation
Meningitis Vaccine
Shingles Vaccine
Contraception Birth Control Patch
Chronic Kidney Failure & Renal Impairment
Tobacco Consumers: SNUS, Chew & Dip
Phase I Trials
Psoriasis
Overnight Trials FL
Fibromyalgia
Asthma
Diabetes
High Cholesterol
Rheumatoid Arthritis
Gastroesophageal Reflux Disease (GERD)
Overactive Bladder
Vaccines
Atrial Fibrillation
Erectile Dysfunction
Irritable Bowel Syndrome (IBS)
Healthy Studies
Gout
Postmenopausal Syndrome
Hepatitis C
Back Pain
Migraine Headaches
Chronic Obstructive Pulmonary Disease (COPD)
Insomnia & Sleep Studies
Restless Leg Syndrome
Constipation
High Blood Pressure (Hypertension)
Osteoarthritis (OA)
Chronic Pain
Diabetic Neuropathy
Obesity/Weight Loss
Smoking Cessation
Influenza Vaccine
Investigator Experience
At Avail, we believe our expert investigative staff is imperative to the success of our clinical trials. Our Principal Investigators are among the most qualified and experienced in the industry. Avail's PIs are exceptionally knowledgeable, committed to excellence and intently dedicated.
ROHAN K. DESAI,MD~Board Certified Nephrologist practicing in Orange City, Florida for over 4 years. He graduated from the University of Mumbai in India, with a fellowship in Nephrology at Virginia Commonwealth University Hospital and completed his residency at Temple University Hospital in Philadelphia, PA. Dr. Desai is a member of the national kidney Foundation and the American Society of Nephrology. Dr. Desai joined Avail in 2010 as an Investigator
VISHAL GUPTA,MD~Dr Gupta completed both his residency in Internal Medicine and his fellowship in Gastroenterology at the University of Florida, while also earning his undergraduate degree in Biochemistry there. With privileges at Fish Memorial Hospital in Orange City, FL and a thriving practice in Orange City, Dr Gupta is an active investigator at Avail in a variety of GI trials.
JOHN M. HILL, MD, CPI~Dr. Hill is a graduate of the University of Central Florida and completed medical school at Ross University in New York City. He is Board Certified in Family Medicine, a Diplomat of the American Board of Family Medicine, and is a Certified Professional Investigator (CPI). Dr. Hill has been conducting research with Avail since 2005.
BRUCE G. RANKIN, DO, CPI~Board Certified in Osteopathic Medicine and Surgery, Diplomat of the National Board of Osteopathic Medicine, and ACRP Certified Clinical Research Investigator. Dr. Rankin is Vice Chief of Medicine at Florida Hospital DeLand. He has been conducting research since 1999 and is currently the Medical Director.
MELANIE VANDEMARK,MD~Dr VanDemark completed her residency in Family Medicine at University of South Florida after completing medical school in the Chicago area at Loyola University. In addition to her active role as an investigator at Avail, she also has a diverse and growing solo practice in DeLand and is on the Clinical Faculty at Florida State University Medical School.
Staff Expertise
Avail's clinical research staff is comprised of skilled and certified personnel who use their expertise and experience to meet the specific needs and time constraints of our clients. Our staff provides a wide range of services and skills for managing the clinical trial process. To further serve our clients, Avail's team includes many professionals who are bilingual across the spectrum of languages, including English, Italian and Hindi. Our staff includes:
Team of Clinical Research Coordinators Assigned to Each Trial
Team Leads for Every Trial
Experienced and Highly-Trained Healthcare Professionals
Board Certified Physicians Acting as Primary Investigators with Oversight on all Trials
Quality Assurance Department
Regulatory Department
Dedicated Phase I Staff
Phase II-IV Staff
Laboratory Staff
Recruiting Call Center
Community Outreach Specialist
Pharmacist
Receptionist
Human Resource Department
Information Technology Department
Clinical Study Participation
Deciding to participate in a clinical study is a choice that must be made after educating oneself about clinical studies and determining if you are a candidate for research. The most important aspect of clinical research studies is the health and well-being of our patients. It is our belief that an informed patient is a happier and healthier patient. That's why our focus is on keeping you informed, answering your general questions about clinical research, and answering specific questions about our site and our trials.
Number of Beds: 50
Phase I Trials: Yes
Date Founded:
January, 12th 1997
We've found
68 trials
at this facility