Hepatitis C Clinical Trial
| | |
| --- | --- |
| Status: | Enrolling |
| Conditions: | Hepatitis C |
| Therapuetic Areas: | Immunology / Infectious Diseases |
| Healthy: | No |
| Age Range: | Any |
| Updated: | 7/14/2012 |
Please contact us to learn more about Hepatitis C trials. These trials range in involvement and length, and we can tell you more about what are currently open and any trials that are upcoming.
Hepatitis C is an indication of focus for us, please contact us to learn more about our trials and to see if we have one for your participation

Have been diagnosed with Hepatitis C and have never received treatment.
Looking for genotypes 1, 2, 3, or 4. (If you're not sure please call)
No diagnosis of Hepatitis B, HIV, or Cirrhosis.
Not have any evidence or treatment of Cancer within the previous 5 years
Not have a history of alcohol or substance abuse within the previous 5 years
Not have used an investigational drug or participated in an investigational study within 30 days of screening
We found this trial at
1
site

860 Peachwood Drive
DeLand, Florida 32720
(386) 740-0770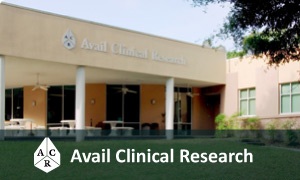 Site Overview Avail Clinical Research is a renowned and experienced clinical research site conducting Phase...
Click here to add this to my saved trials