New Clinical Trials for Osteoarthritis (OA)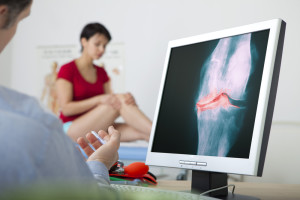 There is currently no cure for osteoarthritis. Treating this disease mainly deals with managing the symptoms of osteoarthritis. Over the last 20 years osteoarthritis clinical studies have focused on electrostimulation techniques.
Unfortunately, no conclusive evidence has been found that these techniques work. Ongoing osteoarthritis clinical trials are being conducted to learn ways to better diagnose, treat and ultimately cure this painful and sometime debilitating disease.
What is Osteoarthritis (OA)?
Osteoarthritis (OA) occurs when the cartilage and bones in joints degrade to a point where they become painful, tender and stiff. It is also known as degenerative joint disease and degenerative arthritis. Osteoarthritis is the most common form of arthritis and it affects 27 million people in the U.S. It most often impacts weight-bearing joints like the hands, feet, spine, and hips.
As a person ages the cartilage in their joints becomes less resilient. Lumps called Heberden's nodes may form and while these are not more painful they can limit movement. Approximately 60% of the cases are linked to heredity, although mechanical issues can also cause osteoarthritis. Secondary causes include diabetes, congenital disorders and inflammatory diseases.
Osteoarthritis (OA) Treatments
Physical therapy and exercise have proven to be successful forms of treating osteoarthritis. They allow for better function, less pain and a delay in the onset of osteoarthritis. If a person is overweight they are encouraged to lose weight to take some of the pressure off of the joints that are being burdened.
Medications that are prescribed for treating osteoarthritis include analgesics, acetaminophen and ibuprofen. Although these medications help with the pain they do not help make the osteoarthritis any better. In more extreme cases where the pain cannot be managed by physical therapy or medication joint replacement surgery may be performed.