New York University School of Medicine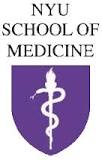 NYU School of Medicine has a proud history that goes back to 1837 and includes initiation of and participation in many of the major events in American medicine through two centuries. In 1837, six years after the granting of the first University charter, the minutes of the meetings of the University Council contained the names of men suggested as professors for the chief branches of medical instruction.
In 1841, the University Medical College was organized, and instruction was begun under the following: Surgery, Anatomy; Chemistry; Theory and Practice of Medicine; Institutes of Medicine and Materia Medical; Obstetrics and Diseases of Women and Children.
Clinical instruction was started in Bellevue Hospital in 1847, and in 1861 Bellevue Hospital Medical College was founded when a college building was erected on the hospital grounds.
With the passing of the years and a deepening conviction that the total medical enterprise should be placed in the scholarly setting of the University, it became clear that University Medical College and Bellevue Hospital Medical College would benefit by consolidating. Thus, the medical school became an integral part of New York University in 1898 under the name of University and Bellevue Hospital Medical College. In 1935 the name was changed to New York University College of Medicine and in 1960 to NYU School of Medicine. The School of Medicine celebrated its sesquicentennial year in 1991.
Today the Medical School boasts 1,360 Full-Time faculty and 2,175 Part-Time faculty. There are 26 Endowed Professorships, 975 Residents/Fellows, 68 M.D./Ph.D. Candidates and 4,788 Post-Graduate Registrants.
We've found
248 trials
at this facility