Winthrop University Hospital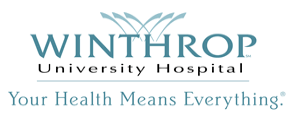 Founded in 1896 by a group of local physicians and concerned citizens, Long Island's first voluntary hospital is a 591-bed university-affiliated medical center and New York State-designated Regional Trauma Center which offers sophisticated diagnostic and therapeutic care in virtually every specialty and subspecialty of medicine and surgery. Winthrop-University Hospital is a major regional healthcare resource with a deep commitment to medical education and research, offering a full complement of inpatient and outpatient services.
In 2010, Winthrop provided inpatient care for 33,082 men, women, and children. There were over 66,000 emergency visits and 4,632 childbirths logged for the year. More than 3,802 electrophysiology procedures and 4,892 cardiac catheterizations were performed. Over 18,500 surgical procedures were completed, including 458 open-heart operations. Winthrop's certified Home Health Agency and its Long Term Homecare Program provided over 121,000 visits to community residents.
The Hospital employs 6,000 dedicated and caring individuals, including nearly 1,500 nurses and 1,525 full-time and voluntary attending medical staff. Winthrop offers a broad range of inpatient and outpatient programs and services for the newborn through the elderly, primarily from Nassau, Suffolk and Queens Counties on Long Island, in a dynamic, progressive environment.
We've found
48 trials
at this facility