Chronic Obstructive Pulmonary Disease (COPD) Clinical Trial
| | |
| --- | --- |
| Status: | Enrolling |
| Conditions: | Chronic Obstructive Pulmonary Disease |
| Therapuetic Areas: | Pulmonary / Respiratory Diseases |
| Healthy: | No |
| Age Range: | Any |
| Updated: | 7/14/2012 |
Are you a current or ex-smoker are suffering from a new or increased shortness of breath, cough, or congestion? If have COPD, Bronchitis, Emphysema or suffer from these symptoms this trial may fit for you.
COPD is an indication of focus for us, please contact us to learn more about our trials and to see if we have one for your participation

Current or ex-smoker
Currently having severe symptoms due to COPD, emphysema, or chronic bronchitis
Not taking a daily inhaled corticosteroid
Not have Asthma or a significant cardiac disease
We found this trial at
1
site

860 Peachwood Drive
DeLand, Florida 32720
(386) 740-0770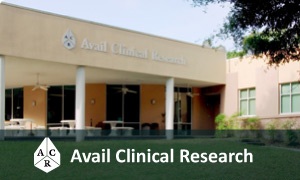 Site Overview Avail Clinical Research is a renowned and experienced clinical research site conducting Phase...
Click here to add this to my saved trials