Hemorrhoids Clinical Trial
| | |
| --- | --- |
| Status: | Enrolling |
| Conditions: | Hemorrhoids |
| Therapuetic Areas: | Other |
| Healthy: | No |
| Age Range: | Any |
| Updated: | 7/14/2012 |
Are you suffering with Hemorrhoids? We conduct trials in this area, please contact us to learn more details.
I invite you to learn more about our Hemorrhoid trial, please contact us today and we can provide more information and answer your questions

Suffering with itching, pain, or bleeding caused by Hemorrhoids.
No drug or alcohol abuse in the past 12 months.
Not have any evidence or treatment of Cancer within the previous 5 years
Not have used an investigational drug or participated in an investigational study within 30 days of screening
Not be currently pregnant or breast-feeding
We found this trial at
1
site

860 Peachwood Drive
DeLand, Florida 32720
(386) 740-0770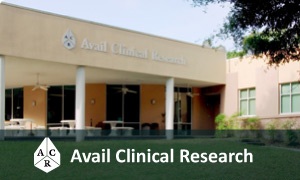 Site Overview Avail Clinical Research is a renowned and experienced clinical research site conducting Phase...
Click here to add this to my saved trials