Healthy Studies Clinical Trial
| | |
| --- | --- |
| Status: | Upcoming |
| Conditions: | Healthy Studies |
| Therapuetic Areas: | Other |
| Healthy: | No |
| Age Range: | Any |
| Updated: | 7/14/2012 |
Please contact us to learn more about trials for healthy volunteers. These trials range in involvement and length, and we can tell you more about what are currently open and any trials that are upcoming.
There are many trials that require Health Volunteers. Please contact us today to learn what we have available and to see if it is a fit for you

Not have unstable cardiovascular, renal, hepatic, pulmonary, endocrine, metabolic, hematologic, or gastrointestinal condition
Not have any evidence or treatment of malignancy within the previous 5 years
Not have a history of alcohol or substance abuse within the previous 5 years
Not have used an investigational drug or participated in an investigational study within 30 days of screening
Not be pregnant
Not be breast-feeding
We found this trial at
1
site

860 Peachwood Drive
DeLand, Florida 32720
(386) 740-0770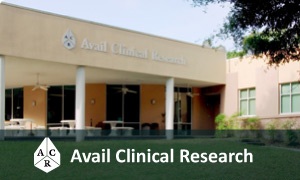 Site Overview Avail Clinical Research is a renowned and experienced clinical research site conducting Phase...
Click here to add this to my saved trials