Safety and Tolerability Study Of PF-06835375 In Subjects With Seropositive Systemic Lupus Erythematosus Or Rheumatoid Arthritis
| | |
| --- | --- |
| Status: | Recruiting |
| Conditions: | Arthritis, Lupus, Rheumatoid Arthritis |
| Therapuetic Areas: | Immunology / Infectious Diseases, Rheumatology |
| Healthy: | No |
| Age Range: | 18 - 70 |
| Updated: | 3/27/2019 |
| Start Date: | November 17, 2017 |
| End Date: | September 8, 2022 |
| Contact: | Pfizer CT.gov Call Center |
| Email: | ClinicalTrials.gov_Inquiries@pfizer.com |
| Phone: | 1-800-718-1021 |
A PHASE 1, RANDOMIZED, MULTI-CENTER, DOUBLE-BLIND, SPONSOR OPEN, PLACEBO-CONTROLLED, SINGLE AND MULTIPLE DOSE-ESCALATION STUDY TO EVALUATE THE SAFETY, TOLERABILITY, PHARMACOKINETICS AND PHARMACODYNAMICS OF PF-06835375 IN SUBJECTS WITH SEROPOSITIVE SYSTEMIC LUPUS ERYTHEMATOSUS OR RHEUMATOID ARTHRITIS
This is a Phase 1 single and multiple dose escalation study to evaluate the safety,
tolerability, pharmacokinetics, and pharmacodynamics of PF-06835375 in subjects with
seropositive SLE or RA. The design is double-blind, sponsor open and placebo controlled. This
study will include two parts: Part A and Part B. Part A will consist of single ascending dose
cohorts, Part B of multiple ascending dose cohorts. This study will enroll up to a total of
approximately 112 subjects at approximately 10 sites.

Inclusion Criteria:

- Patients with Rheumatoid Arthritis: confirmed diagnosis according to 2010 ACR/EULAR
criteria with symptom duration at least 6 months and positive with Rheumatoid Factor
and/or anti citrullinated peptide antibody

- Patients with Systemic Lupus Erythematosus: Confirmed diagnosis according to the SLICC
Classification Criteria with symptom duration at least 6 months and at least one of
the following: positive antinuclear antibody titer, positive anti-dsDNA, anti-Smith
antibodies

Exclusion Criteria:

- Active central nervous system manifestations, systemic vasculitis or
pleuro/pericarditis

- Active lupus nephritis

- Treatment with B cell depleting agents within 52 weeks prior to screening

We found this trial at
15
sites

860 Peachwood Drive
DeLand, Florida 32720
(386) 740-0770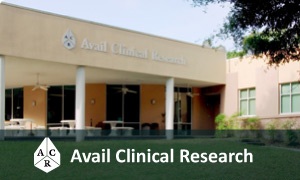 Site Overview Avail Clinical Research is a renowned and experienced clinical research site conducting Phase...
Click here to add this to my saved trials

2147 Northeast Coachman Road
Clearwater, Florida 33765
Click here to add this to my saved trials

Click here to add this to my saved trials

Baltimore, Maryland 21225
Click here to add this to my saved trials

8750 Wilshire Boulevard
Beverly Hills, California 90211
Click here to add this to my saved trials

Catonsville, Maryland 21228
Click here to add this to my saved trials

Clearwater, Florida 33765
Click here to add this to my saved trials

Click here to add this to my saved trials

Duncansville, Pennsylvania 16635
Click here to add this to my saved trials

Glendale, California 91206
Click here to add this to my saved trials

Glendale, California 91206
Click here to add this to my saved trials

Los Angeles, California 90048
Click here to add this to my saved trials

7912 Forest City Road
Orlando, Florida 32810
Click here to add this to my saved trials

3100 Duraleigh Road
Raleigh, North Carolina 27612
Click here to add this to my saved trials

South Miami, Florida 33143
Click here to add this to my saved trials