New Clinical Trials for Hepatitis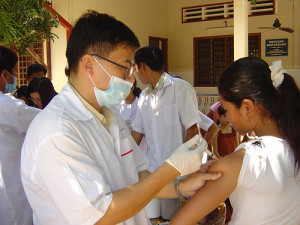 While much is known about the disease from years of hepatitis clinical studies, there is renewed hope that advances in genetic engineering and improved antiviral medications may help greatly improve hepatitis C treatments.
Please review the list of current hepatitis clinical trials. If you have suffered from either acute or chronic bouts of hepatitis we would like to hear from you. Clinical trials are always at no cost to you, but may go a long way in helping to better treat you and future patients.
What is Hepatitis?
Hepatitis is an inflammation of the liver. Acute cases can usually heal with no medical treatment; chronic cases left untreated can progress to fibrosis (scarring) and cirrhosis. Symptoms of hepatitis include jaundice (yellowing of the skin and eyes), loss of appetite and a general feeling of being out of sorts. A chronic case is said to last six months or more and may result in enlargement of the liver. A patient with chronic hepatitis often suffers flu-like symptoms. In cirrhosis, the most advanced form of hepatitis, patients bruise and bleed easily, their legs swell and they have an accumulation of fluid in the abdomen.
Hepatitis Treatments
Hepatitis has several very different causes and treatment depends on the diagnosis. Hepatitis A, B, C, D, and E are viral. An example of a non-viral cause of hepatitis is toxoplasma. Excessive alcohol use and many medications can also cause hepatitis. Acute cases of hepatitis can be treated with rest and giving the body time to heal. For chronic cases interferon may be prescribed. This is a protein that combats viruses in the body. Unfortunately, it is an expensive drug with many side effects and therefore not the most viable hepatitis treatment. Some physicians prescribe a combination of antiviral drugs. In extreme cases a liver transplant may be required, but this is a last resort for treating hepatitis.