New Clinical Trials for Thyroid Cancer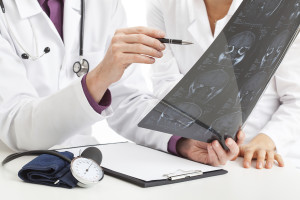 Clinical trials for thyroid cancer are helping to identify better treatments, by determining which ones are safe, effective, and can do a better job than the standard treatments available. Thyroid cancer clinical studies evaluate the latest drugs, new combinations of current medications, or experimental approaches to surgical procedures or radiation therapy.
If you are interested in enrolling in a thyroid cancer clinical trial, then you may be among the first to receive an experimental treatment not available anywhere else. Please remember that these are still experimental therapies, so there is no guarantee that they are going to be effective.
On the other hand, some of these clinical trials may be looking into better ways of easing the side effects of chemotherapy and other standard cancer treatments used today. If you have exhausted the more traditional treatment options for thyroid cancer, then you may want to consider enrolling in a clinical trial. Additionally, you will also be helping to improve the options available for others who may be diagnosed with this disease.
What is Thyroid Cancer?
While the exact cause of most cases of thyroid cancer are still not known, there are several risk factors associated with this type of cancer which have been identified. These risk factors have been the primary focus of a number of recent cancer research projects. Traditionally, thyroid cancer was not a commonly diagnosed in the United States. However, recent estimates show a growing number of people who are developing this disease. Most doctors believe that this growing rate of incidence may be the result of improved medical imaging capable of identifying smaller thyroid tumors which were missed in the past.
As the name suggests, this type of cancer originates in the cells of the thyroid, a butterfly-shaped gland which resides in the base of the neck, right underneath the Adam's apple. This gland is responsible for producing hormones that can regulate body temperature, heart rate, blood pressure, and even weight. Unfortunately, if the cells in the thyroid gland become cancerous, it won't produce any noticeable symptoms during the earliest stages. However, most cases of thyroid cancer can be easily treated and are not deadly.
Thyroid Cancer Treatment
When it comes to treating thyroid cancer, your options may vary depending on the type of cancer, the stage at which it was diagnosed, your overall health, your personal preferences and your oncologists preferences. However, most cases of thyroid can and will be cured with treatment. Most patients with this disease will undergo surgery in which all or most of their thyroid will be removed. After they have had surgery to remove the cancerous gland, patients will need to take the thyroid hormone medication levothyroxine for the rest of their life. A radioactive iodine treatment may be applied after one of these surgical procedures in order to destroy any minuscule amounts of thyroid cancer that were not successfully removed during surgery. While most cases of thyroid cancer can be cured through treatment, a lot of patients are still encouraged to enroll in a clinical trial for thyroid cancer.