Carolina BioOncology Institute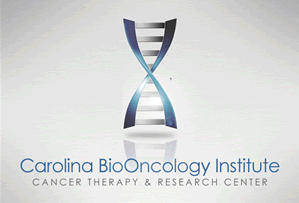 Carolina BioOncology Institute (CBI), Cancer Therapy and Research Center is an independent clinic located near Charlotte, North Carolina.
Mission Statement:
The Carolina BioOncology Institute (CBI) mission is to provide the highest level of comprehensive and quality medical care to cancer patients.
CBI will maintain the highest level of professional, ethical, and regulatory conduct in patient care and clinical research. All completed research trials conducted through CBI will be published in a national clinical trial registry for public access.
CBI will provide early phase research access to investigational drugs on clinical trials, including cellular, immune, radiologic, and gene transfer studies.
CBI will utilize electronic medical records (EMR) to minimize errors, maximize efficiency, and to accelerate drug development by embedding clinical trials for real-time data collection and safety monitoring.
CBI will seek to develop strategic partners in the biopharmaceutical industry towards providing cancer patients in our community with unmatched access to the drug development pipeline.
CBI and it's partners will seek to develop a BioInformatics infrastructure for tumor banking and clinical data ware-housing for drug target discovery, systems biology, and genomic personalized medicine.
CBI and it's partners will seek to develop a human applications laboratory (HAL) and cell processing facility for tumor harvesting and culture, leukapheresis and immune cell expansion towards the development of personalized tumor immunotherapy.
CBI will seek to develop an EMR network of oncologist/investigators for clinical trials.
CBI will seek to educate and train qualified professionals in the multi-disciplinary fields of BioOncology, BioInformatics, clinical research and personalized medicine.
Extensive cancer research in clinical trials phase I-IV for all types of malignancies. Dedicated Phase I developmental therapeutics program. Research team with combined 23 years of site clinical trial management. Special interest in tumor vaccines, antibodies, anti-angiogenesis, small molecules, and cellular immunotherapy.
CBI's clincal team has worked with variety of sponsors and CROs including:
Amgen
Angiogen
Astra-Zeneca
Aventis
AVI BioPharmaceutical
Bristol Myers Squib
Berlex
BioCytics
BioDelivery Sciences
Celldex
Cell Genesis
Cell Therapy Incorporated
Centocor
Chroma Therapeutics
ClinWorks
Genentech
Genta
GlaxoSmithKline
Imclone
Immuno-Design Molecules
INC Research


Incyte
Medelis
Mederex
Nova Rx
Novartis
Parexel
Peregrine
Pharmanet
Pfizer
PPD
PRA
Quintiles
Sanofi Aventis
Roche
Synta
Taiho
Tapestry
Wilex
John Powderly MD, CPI
1987-91 Undergraduate B.S. Biology, George Mason University
1991-95 Doctorate of Medicine, Georgetown Medical School, Lawrence Dean Scholar
1994-95 National Institutes of Health, National Cancer Institute research at Surgery Branch, Division of Immunotherapy
1995-99 Combined Medicine and Pediatrics Medicine Residency at University of Texas Health Science Center, Houston
1999-2000 Assistant Clinical Professor of Emergency Medicine at University of Texas Health Science Center
1999-2000 Faculty staff consultant at MD Anderson Cancer Center, University of Texas Health Science Center
2000-02 Oncology Fellowship, University of North Carolina at Chapel Hill. Triple faculty staff appointments to Departments of Medicine, Pediatrics, and Emergency Medicine. Cancer research at the Lineberger Comprehensive Cancer Center focusing on melanoma and tumor immunology
2002-05 Private practice in Charlotte, NC. Cancer Committee member of Carolina Medical Center, Presbyterian Hospital, and Mercy Hospital. Conducted multiple clinical research trials as principal investigator.
2005 Founder, Carolina BioOncology Institute, Cancer Therapy & Research Center
Board Certified Internal Medicine
Board Certified Medical Oncology
Board Certified Pediatrics
2005 Clinical Assistant Professor of Medicine, UNC
Residency Faculty Teaching Staff at Carolinas Medical Center
2005 Education Committee, Association of Clinical Research Professionals (ACRP)
2005 Co-developer of ACRP Investigator Guidebook Curriculum.
2005 Presenter at Association of Clinical Research Professionals (ACRP) and Academy of Pharmaceutical Physicians and Investigators (APPI) FDA review course for Certified Physician Investigator (CPI)
Only oncologist Certified Physician Investigator (CPI) in the Charlotte region
30+ scientific publications and presentations on cancer research
Extensive phase I clinical trial experience (9 Phase I trials opened 2004-05)
Recognized national thought leader on clinical trials with multiple newspaper, television and radio interviews and an hour-long segment by Mike Collins' Charlotte Talk on National Public Radio focused on the U.S. low accrual rate to cancer trials
Recognized by Ruth Shaw, President of Duke Power during her Keynote speech for the 2004 Duke Power Centennial Economic Development Forum as one of the many "innovators with Grand Designs built upon collaboration" She stated "Fortunately, we have no shortage of people in our region with big dreams, and the skills to make them come true. Dr. John Powderly envisions finding a cure for cancer. It will call for cell processing facilities that could employ former textile workers in growing cells for research and treatment of diseases."
2004 Charlotte Business Journal "Top 40 Under 40" entrepreneur who has benefited the Charlotte community.
2005 Charlotte Chamber of Commerce, founding member Life Sciences Council to develop regional biotech research collaborations
Board Member, Leukemia Lymphoma Society Western NC Chapter
Jahleen Byers
10 years clinical research and 6 years as Clinical Trials Research Coordinator, 4 months oncology experience
Member of ACRP
CBI's Phase I research clinic in the community setting of Charlotte, NC will bring unprecedented access to investigational drugs to the front line of patient care. North Carolina has is the fastest growing biotech industry in the nation, and CBI will continue to leverage our state's research and development so that drugs discovered in North Carolina will be offered first on trial in North Carolina.
According to the Surveillance Epidemiology and End Results (SEER) national database, North Carolina is considered a "Tobacco State" and thus has a higher age adjusted annual death rate of 204 deaths/100,000 persons compared to the national average of 197 deaths/100,000 persons. Furthermore, Mecklenburg Country represented the #1 highest incidence of cancer in North Carolina: 2,340 new cases of cancer/year (425 cases/100,000 population). The City of Charlotte, located in Mecklenburg County is the fasted growing city in North Carolina. CBI is the only full-time oncology clinic established within a 10 mile radius of Huntersville, NC with the highest incidence of cancer in the state.
In addition to being the only BioOncology research center in region, CBI is the first oncology practice in Mecklenburg County to adopt an Electronic Medical Record (EMR) system. This unique combination of clinical research trials embedded in an EMR will serve as a hub for future development of an EMR network of oncologists/investigators for Phase II/III clinical research trials across the region. EMR 100% screening of all cancer patient visits for trial eligibility.
Hematology
Oncology
Pharmacology/Toxicology

CBI is an outpatient clinic conveniently located 13 miles north of Charlotte, off of I-77 near the future beltway 485. CBI opened in 2005 and located directly across from the new Presbyterian Hospital at Huntersville. An experienced clinical staff with infusion services, ancillary laboratory services, and proximity to a hospital with diagnostic and surgical services are key to providing outstanding cancer care. High volume cancer clinic with 10 Infusion chairs, dedicated Phase I research monitoring suites and ACLS, OCN, CCRP certified staff.
Novel research modalities such as dendritic cell vaccines, tumor infiltrating lymphocytes (TIL), gene therapy and antibody conjugated radio-isotopes are currently under development. These new research modalities require a specialized clinic with the infrastructure and equipment for leukopheresis, cellular processing and culture expansion, biosafety level 3 HEPA filtered clean rooms, and radio-isotope facilities. Collectively, these components are known as a Human Applications Laboratory (HAL). Furthermore, most targeted drug trials require access to a tumor bank for pharmacogenomics, proteomics and immunomics for safety/toxicity analysis.
CBI is developing HAL and genomic tumor banking capabilities. These modalities are outside the scope of a private practice or hospital, and require NC BioTech collaboration and public/private partnerships. CBI collaborations will include the newly formed UNCC BioMedical Research Institute of Charlotte and the NC BioInformatics Consortium to open the translational highway for research access to personalized medicine.
The collection of clinical research trial data embedded in an EMR and linked to a tumor bank will allow for the most modern bioinformatics analysis known as Systems Biology. Furthermore, CBI's EMR will provide continuity of pharmacovigilance data beyond trial close out.
These expanded research services will enable the broadest armamentarium of new cancer drugs for our community. CBI will continue to collaborate closely with Presbyterian Hospital, CMC Hospital and UNCC to raise awareness and access for patients and researchers.
EMR remote access to de-identified source records allows sponsors to perform real-time safety and data monitoring. EMR trial embedding service and remote access is available through CBI's Phase I Developmental Therapeutics Program.
John Powderly, MD, CPI
Principal Investigator
Carolina BioOncology Institute
9801 W. Kincey Ave, Suite 145
Huntersville, NC 28078
USA
704-947-6599
704-947-6597 (fax)
www.carolinabiooncology.org


We've found
12 trials
at this facility