New Clinical Trials for Prostate Cancer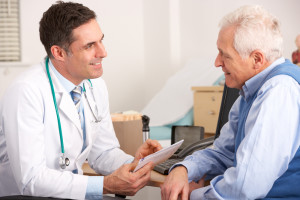 Prostate cancer clinical research to date has revealed that a healthy diet and exercise can potentially help prevent development of the disease. Genetics play a big part in determining if someone will develop prostate cancer so there is a lot more research to be done in this area. Patients and their doctors must review factors such as tumor size, growth and speed of growth when determining a plan of action for treating prostate cancer. You can also find clinical trials related to other types of cancer here.
If you are a survivor of prostate cancer, or perhaps are currently considering undergoing treatment, you may qualify for a prostate cancer clinical trial. Please review the list of current studies and contact us if you are interested. Participation is always at no cost to you.
What is Prostate Cancer?
Prostate cancer is cancer of the prostate, a gland found in the male reproductive system that makes and stores sperm. Initial symptoms of prostate cancer may include pain, trouble with urinating, problems with sexual intercourse, or erectile dysfunction. However, in some cases there are no symptoms and the cancer goes undiagnosed and untreated. This is because prostate cancer is a slow growing cancer.
Patients often seek treatment for other ailments before their prostate cancer even becomes evident to them. It mostly affects those over age 50 and can spread to other organs. Common causes include age and family history. Check out the Prostate Cancer Foundation for more info.
Prostate Cancer Treatments
When prostate cancer is detected its treatments can include surgery, radiation therapy, proton therapy, and external beam radiation therapy. There are also some patients who choose close monitoring as their main form of prostate cancer treatment. If they have no symptoms and the cancer is not spreading this can be an effective way of managing the disease. Hormone therapies are sometimes used successfully in delaying the growth of prostate cancer, but this is not a long-term solution for treating prostate cancer.