New Clinical Trials for Psoriasis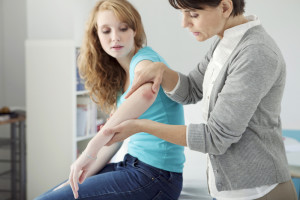 Although psoriasis has been acknowledged far back in history, its cause is not 100% understood. In moderate to severe cases psoriasis can greatly lower the patient's quality of life. They may not be able to participate in sports, or work in certain industries due to their psoriasis.
It is important that we continue to conduct psoriasis clinical research. In recent years there have been several psoriasis clinical trials that show promise in better treating this disease. Hopefully it will only be a matter of years before an economical, safe and effective psoriasis treatment is readily available.
What is Psoriasis?
Psoriasis is a chronic autoimmune disease where the immune system sends faulty signals to the skin to produce more skin cells and speed up the skin cell cycle. Types of psoriasis include plaque, guttate, inverse, pustular, and erythrodermic. Plaque psoriasis is the most common form. It is characterized by red, white and scaly skin. The severity of the psoriasis can vary from small patches on the elbows and knees to covering the entire body. 10 – 40% of patients develop what is called psoriatic arthritis. This occurs when the psoriasis affects the joints. Symptoms of psoriasis include itching, pain, discomfort, and embarrassment.
Psoriasis Treatments
The first line of defense in treating psoriasis is usually topical creams and oils. Those containing coal tars have shown to be especially effective. Phototherapy using sunlight or simulated sunlight has also been successful. If these do not work there are systemic agents like pills and injections that can be prescribed in treating psoriasis.
Alternate therapies include diet and lifestyle changes. Fish oils have shown to be somewhat effective. A healthier lifestyle including a nutritious diet, exercise, no smoking, and moderate alcohol consumption may also help. There is currently no cure and treating psoriasis is a lifelong struggle.