New Clinical Trials for Peripheral Vascular Disease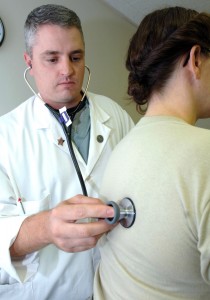 There are several peripheral vascular disease clinical trials currently being completed that are looking at the effects of folate and vitamin B-12 on the disease. While a lot is known about peripheral vascular disease only about 25% of those who suffer from it are undergoing treatments. It is estimated that 12 – 20% of Americans over the age of 65 are affected by peripheral vascular disease.
This disease can be an important indicator of future coronary problems so it is obvious that there is a need for more peripheral vascular disease clinical trials.
What is Peripheral Vascular Disease?
Peripheral vascular disease (PVD) is caused by an obstruction of major arteries generally in the lower extremities of the body, not in the heart or brain. This causes a lack of blood supply known as ischemia that can be acute or chronic. Advanced chronic stages of peripheral vascular disease can lead to gangrene and tissue loss in extreme cases. Peripheral vascular disease also refers to a set of ailments classified by a narrowing or a widening of arteries. Symptoms include pain, weakness, numbness, and sores that don't heal. Causes of peripheral vascular disease include smoking, diabetes, dyslipidemia, and hypertension. It is also known as peripheral arterial disease (PAD) and peripheral artery occlusive disease (PAOD).
Peripheral Vascular Disease Treatments
Peripheral vascular disease treatments include treating or managing the cause of the PVD that is often attributed to other issues such as smoking, diabetes, dyslipidemia, and hypertension. Moderate exercise (3-4 times a week on a treadmill) has shown to help blood flow and improve peripheral vascular disease. Sufferers are also encouraged to control their cholesterol. The drugs cilostazol or pentoxifyline are often prescribed as peripheral vascular disease treatment for those having trouble walking.