Decatur Memorial Hospital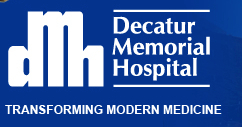 An American flag bearing only 48 stars waved above Decatur Memorial Hospital when its doors first opened on Jan. 1, 1916.
Just as this symbol of our American heritage has endured war, plague, growth and prosperity, DMH's commitment has withstood the test of time, growing stronger and more dedicated with each passing decade. Throughout the years, Decatur Memorial Hospital has been transformed from a one-building facility to a multi-facility medical complex with 30 satellite offices offering the latest in healthcare diagnostic and treatment modalities.
A not-for-profit, private hospital, Decatur Memorial Hospital
We've found
114 trials
at this facility