New Clinical Trials for Gout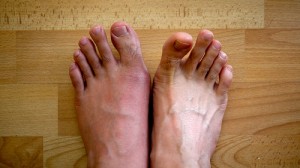 The goal of current gout clinical research is to learn more about its causes and related conditions. This will hopefully lead to better gout treatments and ultimately a cure. Although much is known about gout there are ongoing gout clinical trials testing new medications such as anakinra, canakinumab and rilonacept. If you or someone you know has suffered from gout or podagra, please review the list of current gout clinical trials. If you are interested and think you might qualify please contact us. Participation in clinical trials are at no cost to you.
(For more information on Gout, please see our page on the Signs & Symptoms of Gout)
What is Gout?
Gout is a condition that occurs when there is painful inflammation of a joint in the body due to elevated levels of uric acid that have crystallized and deposited. In about 50% of the cases of gout the joint affected is the one at the base of the big toe. In this case the ailment is known as "podagra". Other ways that gout presents itself are as tophi and kidney stones. The cause of gout can usually be linked to diets high in alcohol, meat, sweetened drinks, and seafood. For this reason it gout was historically known as "the disease of kings". Gout is also a genetic disease.
Gout Treatments
Gout treatments initially focus on taking care of the symptoms. Ice can be used to alleviate the pain. A regimen of non-steroid anti-inflammatory drugs or steroids may be given for one to two weeks. If preventative measures are not taken the chances are that the gout will return. Preventative measures for treating gout include eating a low calorie diet, reducing alcohol consumption and taking higher doses of Vitamin C. The goal is to reduce uric acid levels in the body so the gout does not reoccur.