Achieve Clinical Research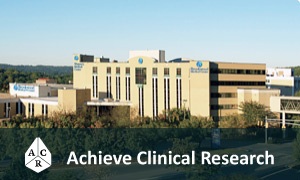 Site Overview
Achieve has two clinical research sites in Birmingham, AL. Our Birmingham sites are conveniently located in the medical heart of Birmingham and in close proximity to two major medical centers, Brookwood Medical Center and St. Vincent's Hospital. We conduct Phase II-IV trials at both locations, while our sister site, Avail Clinical Research, conducts Phase I trials. Our advanced clinical research facility is fully-equipped with the latest technologies, yet remains comfortable for our patients and is staffed with an experienced and professional team. Our facilities are conveniently located within simple driving distance of the main highways in Alabama for easy access. Our Birmingham location is within 10 minutes of downtown and 20 minutes from the airport near I-65 and route 31. Serving Birmingham, Homewood, Vestavia Hills, Gardendale, Hoover, Shelby, Bessemer, Irondale, Mountain Brook, Center Point, Gardendale, North Jefferson, Trussville, Clay, Chalkville, Leeds, Moody At Achieve Clinical Research, we pride ourselves on our expertise in conducting Phase II-IV clinical research studies. We conduct clinical trials to test new and innovative drugs and treatments that are in development with biotechnical and pharmaceutical companies. During the trials, the treatment's safety and efficacy in human subjects will be assessed throughout multiple stages. Achieve has numerous current and upcoming clinical research studies in which you can participate. Achieve Clinical Research is now seeking participants for our clinical research studies. As a clinical trial participant, you receive all study-related medical care and treatment at no cost to you, and health insurance is not required. You may also be compensated for your time and travel while participating in the study. Most importantly, when you volunteer to participate in a clinical trial, you further understanding about a specific condition and are an integral part of finding an effective treatment or cure. We want you to be fully informed and educated about clinical research studies as you are considering being a participant. Utilize our website to learn more about Phase II-IV clinical trials, such as how they are conducted, who is involved and where the studies are performed. Are you already interested in participating in clinical trials? Please browse our current and upcoming clinical research studies to find the one best suited for you. Or, tell us more about yourself, and Achieve Clinical Research can help you find the right study.
Therapeutic Areas
Achieve Clinical Research is currently conducting a wide array of clinical studies targeted towards certain conditions. You may be eligible to participate in one of our clinical trials and contribute to the development and approval of a new drug or treatment. As a participant, there is no cost to you at any point during the study and health insurance is not required. Browse our clinical trials being conducted now to find the study best suited for you.
Atrial Fibrillation
Back Pain
Chronic Kidney Failure & Renal Impairment
Constipation
Contraception Birth Control Patch
Daily Aspirin Users
Diabetic Neuropathy
Erectile Dysfunction
Fibromyalgia
Gastroesophageal Reflux Disease (GERD)
Gout
Healthy Studies
Hepatitis C
High Blood Pressure (Hypertension)
High Cholesterol
Insomnia & Sleep Studies
Lung Cancer
Migraine Headaches
Obesity and Weight Loss
Overactive Bladder
Phase I Trials
Post-Surgical Pain
Postmenopausal Syndrome
Prostate Cancer
Psoriasis
Restless Leg Syndrome
Shingles Vaccine
Sinusitis
Smoking Cessation
Tobacco Consumers: SNUS, Chew & Dip
Vaccines
Chronic Pain
Irritable Bowel Syndrome (IBS)
Influenza
Osteoarthritis (OA)
Asthma
Rheumatoid Arthritis
Lupus
Chronic Obstructive Pulmonary Disease
Diabetes
Our Medical Staff
Achieve's clinical research staff is comprised of skilled and certified personnel who use their expertise and experience to meet the specific needs and time constraints of our clients.  Our staff provides a wide range of services and skills for managing the clinical trial process.  Our staff includes:
Team of Clinical Research Coordinators Assigned to Each Trial
Team Leads for Every Trial
Experienced and Highly-Trained Healthcare Professionals
Board Certified Physicians Acting as Primary Investigators with Oversight on all Trials
Quality Assurance Department
Regulatory Department
Phase II-IV Staff
Laboratory & X-Ray Facilities on-site
Recruiting Division
Community Outreach Specialist
Receptionist
Human Resource Department
Information Technology Department
Achieve believes that constancy among staff members is vital. Our clinical research professionals receive attractive compensation and work in a pleasant environment under ideal conditions. Furthermore, our staff enjoys working at a renowned organization that prides itself on the quality of service it offers the community. All of our staff members complete thorough training, and education is stressed for everyone on our team. Achieve conducts ongoing training sessions to further our staff's knowledge in all areas of clinical research. Each member of our team is committed to excellence and the highest standards of research. The following clinical research staff members are always available to serve your needs:
Site Director, Phase II-IV?Specialized management of your in-patient trial
Business Development Team?Judicious classification and coordination of incoming trials
Recruiting Manager?Effective and efficient advertising techniques and marketing strategies to ensure that we fill your study
Vice President, Finance?Comprehensive contract negotiation and thorough budget analysis
Director of Process & Integration?Oversight to ensure consistency in processes, appropriate routines and controls, and effective study implementations
At Achieve, we believe our investigative staff is imperative to the success of our clinical trials. Our Principal Investigators are among the most qualified and experienced in the industry. Achieve's PIs are exceptionally knowledgeable, committed to excellence and intently dedicated.
DAVID DEATKINE, MD
~Dr. DeAtkine trained at UT Southwestern Medical School. He completed his medical residency at Duke University with a fellowship in Endocrinology, Diabetes and Metabolism. He is Board Certified in Internal Medicine and Endocrinology.
KENNETH JAFFE, MD
~Dr. Jaffe trained at the University of Alabama. He completed a surgical residency at the University of Alabama at Birmingham and a fellowship in Orthopedic Oncology at Massachusetts General Hospital. He also holds an MBA from the University of Alabama at Birmingham. Dr. Jaffe is Board Certified in Orthopedic Surgery and Internal Medicine.
CHRISTOPHER RONEY, MD
~Dr. Roney trained at the University of Mississippi and completed his medical residency at the University of Mississippi Medical Center. He completed a fellowship in Pulmonary/Critical Care Medicine at the University of Alabama at Birmingham. He is Board Certified in Internal Medicine and Pulmonary Medicine.
JAMES SOSNOWCHIK, MD
~Dr. Sosnowchik trained at Ohio State University. He completed his medical residency at Duke University Medical Center with a fellowship in Pulmonary Medicine. He is Board Certified in Internal Medicine and Pulmonary Medicine.
HAYES WILLIAMS, MD, PhD
~Dr. Williams trained at Louisiana State University School of Medicine in Shreveport Louisiana and completed his surgical Internship at Baptist Hospital in Birmingham, Al. He has a Master of Science degree in Biology and a Doctorate of Philosophy. Dr. Williams has been in private practice for 31 years. He has been conducting research with Achieve Clinical Research in the capacity of Medical Director and Principal Investigator since 2001.
HAROLD A. WILSON, JR., MD
~Dr. Wilson trained at the University Of Alabama School Of Medicine and completed his residency at the University of Alabama in Internal Medicine with a fellowship in Pulmonary/ Critical Care at North Carolina Baptist Hospital. He holds Board Certifications in Internal Medicine, Pulmonary Medicine, Critical Care and Sleep Medicine.
ALLEN YEILDING, MD
~Dr. Yeilding trained at the University of Alabama. He completed his medical residency at Carraway Methodist Medical Center with a fellowship in Hematology and Oncology from the University of Alabama at Birmingham. He has extensive clinical research experience. He is Board Certified in Internal Medicine, Hematology and Oncology.
Patient Demographics
We maintain two locations within Birmingham, AL. Birmingham is renowned for its diverse patient demographics and sprawling populations. Home to many colleges and universities where students are open and interested in clinical research.
Achieve Clinical Research has a massive database of clinical trial volunteers and a vast pool of potential clinical trial participants. Our location within St. Vincent's Hospital and Brookwood Medical Center provides us access to potential patients for our clinical trials as well. Our diverse patient demographics work to further ensure our accuracy and precise data collection. If you are interested in participating in one our clinical research trials, please contact us today.
World-Class Data Collection
Achieve has one of the most effective and accurate data collection and management systems in the industry. We realize how critical accuracy, privacy and efficiency in data collection are, and we use one of the most dynamic and state-of-the-art clinical trial management systems available. Our staff has the ability to identify patient populations and track our patients throughout the respective study with expediency.
Achieve maintains a degree of observation, documentation and organization that is unparalleled in the industry. We are dedicated to clinical research, and as such, we utilize the most efficient, streamlined data collection and management methods. In fact, Achieve was built solely for clinical research.
Patient Recruiting Expertise
Achieve Clinical Research has the expertise required to continuously enroll clinical research volunteers from a diverse past and prospective patient database. From specialized patient populations to healthy college-aged volunteers, our patient database is comprehensive. In addition, Achieve maintains a dedicated recruiting staff that, through their commitment and time, can meet and surpass enrollment goals.
Birmingham, AL is a steadily growing area with the population increasing by the day. Birmingham is renowned for its 20+ colleges and universities. These educational facilities provide Achieve with a large database of past and potential patients and an ever-expanding patient population that is receptive and interested in clinical research.
Areas of Expertise
Achieve Clinical Research has a wide array of clinical research experience, ranging from osteoarthritis to infectious disease. Our many areas of research expertise ensure we are industry experts at conducting a wide range of clinical trials and research studies. Listed below are some of the targeted conditions for which we conduct clinical trials. In addition to these conditions below, we are continually recruiting patients in order to conduct trials for other conditions. Our areas of clinical research expertise include, but are not limited to:
Osteoarthritis
Sinusitis
Hypertension
Migraine Headaches
Chronic Obstructive Pulmonary
Disease
Chronic Pain
Obesity
Back Pain (Acute and Chronic)
Hyperlipidemia
Bronchitis (Acute and Chronic)
Pharmacokinetics
Pharmacodynamics
Healthy Patient Studies
Gastroesophageal Reflux Disease
Gout
Insomnia
Diabetic Neuropathy
Angina
Seasonal Allergic Rhinitis
Fibromyalgia
Genitourinary Dysfunction
Rheumatoid Arthritis
Irritable Bowel Syndrome
Community Acquired Pneumonia
Skin and Soft Tissue Infections
Erectile Dysfunction
Premature Ejaculation
Depression
Influenza
Asthma
Diabetes
Food Studies
Acne
Allergy
Anxiety
Cardiovascular
Colitis
Contraception
Dyslipidemia
Peripheral Vascular Disease
Psychiatric Disorders
Cognitive Studies
Smoking Cessation
Urticaria
Hot Flash
Vaginitis
Osteoporosis
Post-Surgical Pain
Nutraceuticals
Postmenopausal Syndrome
Infectious Disease
Lupus
OTC Switch
Postherpatic Neuralgia
Ulcer GU/DU
Institutional Review Boards
Achieve has a vast database of FDA-inspected Institutional Review Boards, providing quick and unrestricted approvals, adherence to regulations and the protection of patient rights. This database of IRBs is maintained along with our central IRB. Some of the IRBs with which Achieve has worked include:
Chesapeake Research Review, Inc. – Outpatient
Independent IRB, Inc, – Outpatient
New England Institutional Review Board – Outpatient
Schulman Associates IRB, Inc. – Outpatient
Sterling Institutional Review Board – Outpatient
The Copernicus Group – Outpatient
Western Institutional Review Board – Outpatient
Quorum Review – Outpatient
DCH Health Systems IRB – Inpatient
Phase II-IV Capabilities
Achieve prides itself on the Phase II-IV clinical trials we conduct at our state-of-the-art facilities in Birmingham, AL and Tuscaloosa, AL. We use the latest and advanced technologies to conduct high-quality, accurate clinical research. However, our primary focus is on patients' security and the protection of their health and well-being during clinical trials. Our Phase II-IV clinical trials are conducted in facilities that feature cutting-edge technology, yet retain a warm and inviting atmosphere for the comfort of our patients. Achieve conducts both overnight and outpatient trials. We are able to perform studies that  require overnight monitoring at our 2 locations, but also have hospital locations and privileges at several hospitals in both Birmingham and Tuscaloosa for more extensive in-patient studies. These hospital locations and privileges allow us to work closely with hospitals and surgeons as a dedicated clinical trial company based in a hospital setting.
Achieve also maintains CLIA accredited laboratory with technologically advanced equipment such as a -70° freezer, locked and refrigerated drug storage space, refrigerated centrifuge, x-ray, drawing stations and processing areas. Likewise, our facility features comfortable break rooms/kitchen areas for our staff to get together and relax. Both our outpatient clinical research facility and our locations within hospitals provide us with  unparalleled capabilities for Phase II-IV clinical research studies. Contact Achieve today to learn more about our Phase II-IV clinical trials.
We've found
50 trials
at this facility