Accord Clinical Research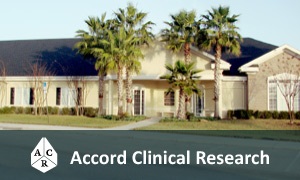 About Us
Accord Clinical Research is a privately owned research facility, founded in Port Orange, FL. Our facility is located in heart of Port Orange, Florida – a coastal community just south of Daytona International Speedway serving the growing metro-area of Daytona Beach.
Accord is an Accel company. Accel owns and operates industry-leading clinical research sites that specialize in the full range of indications. We pride ourselves on delivering quality and speed to our pharmaceutical and bio-technology Sponsors, as well as all leading Contract Research Organizations (CRO's). Our medical team prides itself on providing rapid start-ups, speedy, accurate project management and efficient protocol achievement.
We have rapid start up capabilities with our efficient submission techniques, as we can obtain approval and begin studies within several days of receiving final protocol. We have a precise chain of custody for vital documents and investigational substances with our innovative tracking system. In order to stringently comply with regulations regarding the protection of human research patients and ensure rapid expedited and unconditioned approvals, we maintain a database of FDA inspected Institutional Review Boards in addition to our central IRB. Our medical staff can promptly identify and track even the most complicated patient populations with our unique and innovative clinical trials management system. In an ever-evolving industry where accuracy is critical, data is sensitive and timing is vital, this state-of-the-art, efficient data management system is essential.
At Accord, we utilize the expertise and skill of our entire team to meet and exceed the specific needs and time lines of our sponsors. Our focus has always been to work tirelessly today to bring the drugs of tomorrow to our community.
As an innovative and experienced clinical research site, Accord Clinical Research conducts Phase II-IV clinical trials in Central Florida. We test investigational treatments and therapies being developed by pharmaceutical and biotechnical companies to assess their efficacy and safety in humans. Accord is currently conducting an array of clinical research studies in which you can participate.
Accord is always looking for volunteers to participate in these clinical trials. As a clinical trial participant, you receive all care related to the study at no cost to you. You may also be compensated for your time and travel while participating. Most importantly, you are assisting in acquiring more knowledge about a condition and finding a treatment or cure when you participate in a clinical trial.
We are committed to informing you about clinical trials and answering any questions you many have so that you can make an educated decision about your participation. We welcome you to browse our website to learn about the clinical studies we conduct. Take some time to familiarize yourself with our physicians and state-of-the-art facilities.
Are you interested in being a clinical trial participant? If so, please browse our current and upcoming clinical research studies. Tell us a little more about yourself, and Accord can help place you in the proper study group or trial.
Site Overview
Our dedicated clinical research facility is centrally located in Port Orange, within the Daytona Metro-Area. The location has an expansive medical community and is close to several major medical centers. Our facility is the center for our Phase II-IV clinical trials and attracts participants throughout Central Florida. Accord's clinical research facility is warm and inviting for our patients while maintaining the latest in advanced technologies. Accord is conveniently located within easy driving distance of three international airports: Orlando (55 miles), Sanford (40 miles) and Daytona Beach (10 miles).
Patient Demographics
Port Orange and the metro-Daytona area are renowned for diversity and continual growth. Accord is surrounded by many communities with residents, from college students to active retirees, who are open to and interested in clinical research practices.
Accord maintains a vast database of more than 50,000 clinical trial volunteers with diverse patient demographics to ensure the accuracy of our data collection from the clinical trials we conduct. Are you interested in participating in a clinical trial? If so, please contact us for more information.
Institutional Review Boards
While we are always glad to utilize a central Institutional Review Board, we also maintain a current database of FDA-inspected IRBs to ensure rapid and unconditional approvals and strict adherence to regulations and the protection of human research subjects. Some of the IRBs we have worked with include: 
Asentral IRB 

Biomedical Research Institute of America 

Chesapeake Research Review, Inc. 

Crescent City IRB 

Essex Institutional Review Board, Inc. 

Florida Institutional Review Board 

Goodwyn Institutional Review Board 

Independent IRB, Inc. 

IntegReview 

New England Institutional Review Board 

Novum Independent IRB 

Quorum Review, Inc. 

Research Consultants' Review Board 

Schulman Associates IRB, Inc. 

Southern Institutional Review Board 

St. Davids Human Research Review Board 

Sterling Institutional Review Board 

The Copernicus Group 

The IRB Western Institutional Review Board

Areas of Expertise
At Accord, we have clinical research experience in many areas. These areas of expertise range from asthma and gout to obesity and anxiety. We are conducting clinical trials for new treatments for these conditions, and we are always recruiting for and conducting trials for other conditions. The following areas of expertise at Accord are as follows: 
Osteoarthritis 

Sinusitis 

Hypertension 

Migraine Headaches 

Chronic Obstructive Pulmonary Disease 

Chronic Pain 

Obesity 

Back Pain (Acute and Chronic) 

Hyperlipidemia Bronchitis (Acute and Chronic) 

Pharmacokinetics 

Pharmacodynamics 

Healthy Patient Studies 

Gastroesophageal Reflux Disease 

Gout 

Insomnia 

Diabetic Neuropathy 

Angina 

Seasonal Allergic Rhinitis 

Fibromyalgia 

Genitourinary Dysfunction 

Rheumatoid Arthritis 

Irritable Bowel Syndrome 

Community Acquired Pneumonia 

Skin and Soft Tissue Infections 

Erectile Dysfunction 

Premature Ejaculation 

Depression 

Influenza 

Asthma 

Diabetes 

Food Studies 

Acne 

Allergy 

Anxiety 

Cardiovascular 

Colitis 

Contraception 

Dyslipidemia 

Peripheral Vascular Disease 

Psychiatric Disorders 

Cognitive Studies 

Smoking Cessation 

Urticaria 

Hot Flash 

Vaginitis 

Osteoporosis 

Post-Surgical Pain 

Nutraceuticals 

Postmenopausal Syndrome 

Infectious Disease 

Lupus 

OTC Switch 

Postherpatic Neuralgia 

Ulcer 

GU/DU

We've found
25 trials
at this facility