Johns Hopkins University School of Medicine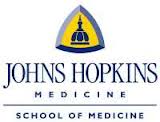 Johns Hopkins Medicine (JHM), headquartered in Baltimore, Maryland, is a $6.7 billion integrated global health enterprise and one of the leading health care systems in the United States. JHM unites physicians and scientists of the Johns Hopkins University School of Medicine with the organizations, health professionals and facilities of The Johns Hopkins Hospital and Health System.
JHM's vision, "Together, we will deliver the promise of medicine," is supported by its mission to improve the health of the community and the world by setting the standard of excellence in medical education, research and clinical care. Diverse and inclusive, JHM educates medical students, scientists, health care professionals and the public; conducts biomedical research; and provides patient-centered medicine to prevent, diagnose and treat human illness.
JHM operates six academic and community hospitals, four suburban health care and surgery centers, and more than 30 primary health care outpatient sites. The Johns Hopkins Hospital, opened in 1889, was ranked number one in the nation by U.S. News & World Report for 21 years in a row and again in 2013 for a 22nd time.
We've found
59 trials
at this facility