Medical University of South Carolina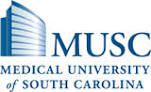 The Medical University of South Carolina (MUSC) has grown from a small private medical school in 1824 into one of the nation's top academic health science centers, with a 700-bed medical center (MUSC Health) and six colleges that train approximately 2600 health care professionals per year.
As an academic medical center or teaching hospital, MUSC Health is at the forefront of the latest advances in medicine, with world-class physicians, groundbreaking research and technology that is often among the first of its kind in the world. Patients also benefit from a multidisciplinary, team approach to care that involves the close collaboration of specialists from many different areas.
We've found
421 trials
at this facility