Study Of Palbociclib (PD-0332991) In Renal Impairment
| | |
| --- | --- |
| Status: | Completed |
| Conditions: | Renal Impairment / Chronic Kidney Disease |
| Therapuetic Areas: | Nephrology / Urology |
| Healthy: | No |
| Age Range: | 18 - 75 |
| Updated: | 5/2/2018 |
| Start Date: | May 2014 |
| End Date: | May 2016 |
A Phase 1, Open-label, Single Dose, Parallel-group Study To Evaluate The Pharmacokinetics Of Palbociclib (Pd-0332991) In Subjects With Impaired Renal Function
Since the amount of palbociclib eliminated in urine is 6.9%, renal impairment is not expected
to have much impact on palbociclib. However, the Federal Drug Administration (FDA) Guidance
recommends a study in subjects with renal impairment when the drug is likely to be used in
patients with impaired renal function. Palbociclib is intended for chronic use in cancer
patients who may have some degree of impaired renal function.

Inclusion Criteria:

- Personally signed and dated informed consent document.

- Renal function calculated by the Cockcroft Gault equation: normal function (CLcr >=90
mL/min), mild: CLcr >=60 mL/min and <90 mL/min, moderate: CLcr >=30 mL/min and <60
mL/min, severe: CLcr <30 mL/min but not requiring hemodialysis.

- Subjects with normal renal function matched for age, weight, gender and race to
subjects in impaired renal function groups.

Exclusion Criteria:

- Any condition possibly affecting drug absorption.

- Renal allograft recipients.

We found this trial at
3
sites

860 Peachwood Drive
DeLand, Florida 32720
(386) 740-0770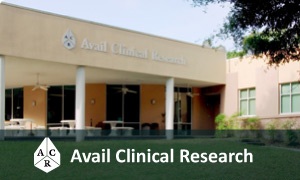 Site Overview Avail Clinical Research is a renowned and experienced clinical research site conducting Phase...
Click here to add this to my saved trials

5055 South Orange Ave Orlando FL 32909
Orlando, Florida 32806
407-240-7878

Click here to add this to my saved trials

Saint Paul, Minnesota 55114
Click here to add this to my saved trials