Atlanta Center for Medical Research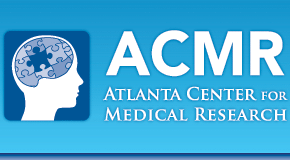 Welcome to the Atlanta Center for Medical Research, a leader in the field of Research Studies, located conveniently in the Midtown neighborhood of Atlanta, GA. ACMR has over 30 years of research experience which has given ACMR the edge in conducting research study trials. Since 1980 ACMR has assisted in the advancement of critical scientific milestones, helping sponsors bring important medications to the patients everywhere.
ACMR is a 24-hour privately owned research facility with a secured, 64-bed inpatient unit. We conduct both outpatient and inpatient clinical trials with experience in Phases 0/I first in humans through IV of industry sponsored pharmaceutical trials. ACMR has become an exclusive research site in the United States for national and international medication studies.
ACMR provides professional, conscientious research services that are pivotal in the advancement of treatment of illnesses of the central nervous system and in other therapeutic areas. Our dedicated and experienced research team conducts clinical trials with compassion and respect for our research participants. We deliver timely and accurate results that ultimately improve the lives of people through the development of safe and effective drug therapies.
For more than 30 years ACMR has successfully developed and executed proprietary Standard Operating Procedures (SOP) and Methods of Procedures (MOP) that serve as the operating manual for the facility.
We've found
38 trials
at this facility