New Clinical Trials for Erectile Dysfunction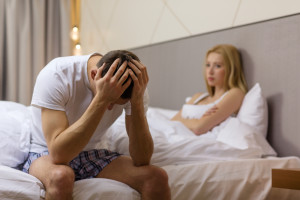 Although erectile dysfunction was rarely spoken about in public as recently as a decade ago, today the popularity of erectile dysfunction treatments such as Viagra has made it a more common topic of discussion. The wide variety of possible underlying causes leads to the need for ongoing erectile dysfunction clinical studies.
If you think you suffer from erectile dysfunction, or if you have been diagnosed, please review the list of current erectile dysfunction clinical trials. All clinical trials are 100% confidential and at no cost to you. Contact us today if you are interested in participating and think that you may qualify.
What is Erectile Dysfunction?
Erectile dysfunction is a condition in men where an erection is difficult to produce and maintain for sexual pleasure. It is also known as ED or male impotence. Erectile dysfunction has many potential underlying causes including heart disease, diabetes, a medication side effect, or a potassium deficiency. Some neurogenic disorders such as spine injuries and Parkinson's disease can also cause it. There are also cases where the cause in psychological simply because the man feels inadequate. Besides disease age is also a determining factor.
Erectile Dysfunction Treatments
The most common and first line of defense in treating erectile dysfunction is the use of PDE5 inhibitor drugs such as Viagra. Improved exercise can also sometimes help since it improves blood circulation in the body. Some doctors prescribe a pump that is used to manually draw blood into the penis just prior to intercourse. There are also surgical methods for treating erectile dysfunction. This involves an inflatable penile implant is inserted into the penis. Topical creams have also proven to have success in approximately 80% of cases. These are called alprostadil, known by the brand name Befar.