Children's Hospital and Research Center Oakland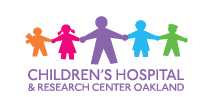 For nearly 100 years, Children's Hospital & Research Center Oakland has been delivering exceptional medical care to children from all regions of California. Parents choose Children's because we have the best and most experienced specialists and because of the genuine passion with which we treat every child.
You can expect a better outcome when your treatment team includes sub-specialty, fellowship-trained physicians covering over 30 pediatric specialties. We care for tens of thousands of children. This means more experience, which means quality care and better outcomes. Shared care from a comprehensive team of highly trained board-certified pediatric specialists, nurses, technicians and therapists is vital to ensure the right treatment from the start.
Our doctors know that children can't be treated as small adults. All our equipment is kid-sized and we know the protocols that work best for children. They benefit from lower doses of radiation and anesthesia administered by pediatric specialists who stay abreast of the most innovative treatments.
We've found
57 trials
at this facility