Kids Get Arthritis Too – It's Juvenile Arthritis Awareness Month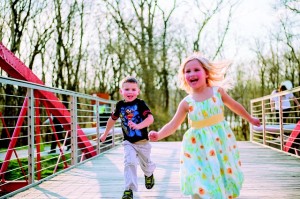 Did you know that July is Juvenile Arthritis Awareness Month? Arthritis isn't just a disease that affects older people. Thousands of children are diagnosed with some form of the disease each year, and we'd like to ask all of our readers to help us raise awareness for this worthy cause. Organizations like the Arthritis Foundation are hard at work looking for new solutions, but they need your support.
With more than 300,000 American children currently living with some form of arthritis, these organizations help provide support for families all across the country.
Choosing to support one of these groups has a direct impact on the development of new treatments and therapies. In fact, the Arthritis Foundation alone invests more than $4.5 million annually in JA-specific research initiatives and outreach.
(This funding helps support arthritis clinical trials being conducted all around the country.)
Arthritis Isn't an Old Person's Disease
When most people hear "arthritis", it probably conjures up a picture of an older person who can't walk without the support of a cane due to the pain in their joints (or something similar). The unfortunate reality is that many children are also diagnosed with arthritis. Juvenile arthritis (JA) serves as an umbrella term that refers to more than one hundred forms of arthritis that can develop in children before the age of 16.
(Children under the age of 16 that have exhibited swelling in one or more joints for at least six weeks should be taken to a specialist for diagnosis.)
What Are the Different Types of Juvenile Arthritis?
Primary-care doctors often have to refer children to a pediatric rheumatologist in order to confirm their diagnosis. Treatment should commence as soon as a diagnosis is confirmed. Studies have shown that this is the best way to limit the level of joint damage in the long run. The best course of treatment will rely on what type of arthritis the child has developed.
here are some of the most common forms of JA:
Juvenile Idiopathic Arthritis (JIA) – This is the most common form of JA (this illness is also referred to as juvenile rheumatoid arthritis or JRA). The onset of symptoms usually takes place before 16 with swelling in at least one of the joints lasting no less than six weeks.
Juvenile Psoriatic Arthritis – This form of arthritis affects both girls and boys. It develops in conjunction with the skin condition known as psoriasis.
Juvenile Dermatomyositis – This is an inflammatory disease that produces rashes around the knuckles and eyelids and leads to muscle weakness.
Juvenile Lupus – This is actually a disease of the immune system, which is why some instances can occur in children at a very young age (similar to JRA). Juvenile lupus can affect the joints, skin, kidneys, blood and other areas of the body.
Kawasaki Disease – This form of JA is named after a Japanese pediatrician named Tomisaku Kawasaki who discovered similar inflammatory-type symptoms exhibited in a group of children. Kawasaki disease commonly affects young children and even infants (onset is often preceded by a high fever). Heart complications are a common concern for children diagnosed with this illness.
Here's a great video on Juvenile Rheumatoid Arthritis Awareness:
The Common Signs of Juvenile Arthritis
Even toddlers can start to exhibit the signs of one these diseases, so you should know the indications to keep an eye out for (similar to the symptoms associated with adult arthritis). These rheumatic diseases are the result of a malfunctioning immune response where it begins to attack healthy tissues within the body (particularly the joints). Here are some of the most common symptoms for JA:
Pain in the joints or muscles
Stiff joints (especially in the morning)
Swelling and redness around the area of the joint
Frequent fevers accompanied by fatigue
Unusual weight loss
Faint, pink rashes over the knuckles and other unusual areas
Persistent eye redness and blurry vision
Non-profit health organizations like the Juvenile Arthritis Association and the Arthritis Foundation are committed to improving community-wide awareness for these diseases and supporting promising research projects at the same time. Unfortunately, there's a significant lack of funding, which means many initiatives never even get off the ground. If you're interested in making a difference, please visit this page.