St. Nicholas Hospital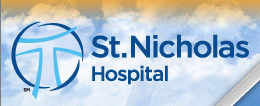 St. Nicholas Hospital is a full-service community hospital committed to providing patients a choice for their healthcare provider. The Hospital understands the needs of the community. Programs and services are built to serve those needs while staying true to our founding Sisters' mission, vision, and values.
We continue to expand our services through innovative thinking and technology to provide high quality, family-centered care to all our patients. We stay on the cusp of high-tech in order to provide "big city" care close to home. We upgrade our technology in a way that is fiscally sound to keep healthcare costs down.
St. Nicholas Hospital provides on-going treatment for acute illness, as well as numerous other inpatient and outpatient health services. We wisely invest in our facility and bring new equipment to the community. Our care delivery models bring our care out into the community to make it more convenient for our patients.
The St. Nicholas Hospital Comprehensive Wound Care Center uses advanced treatment techniques to help heal wounds when wounds won't heal. Two hyperbaric chambers make this a full-service center of healing.
We've found
5 trials
at this facility