Marshfield Clinic Cancer Center at Sacred Heart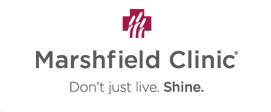 Marshfield Clinic Cancer Care at Sacred Heart Hospital in Eau Claire is a specialized medical group dedicated to the diagnosis and treatment of cancers and blood disorders.
Marshfield Clinic Cancer Care at Sacred Heart Hospital physicians are part of a network of more than 750 physician specialists.
Information from previous appointments within the Marshfield Clinic System, including past tests, procedures or notes are available to your health care team through our electronic medical record. This is one way members of your health care team around the Marshfield Clinic system maintain close communication to ensure you receive the best quality care.
Our staff includes board-certified hematologists and oncologists , oncology-certified nurses (OCN), pharmacists, oncology social worker, a financial assistance coordinator, patient navigator, medical assistants and appointment staff.
Our Cancer Center partners locally with Sacred Heart Hospital and St. Joseph's Hospital in Chippewa Falls - part of the Hospital Sisters Health System (HSHS) to provide complete health care.
We've found
36 trials
at this facility