Cook Children's Health Care System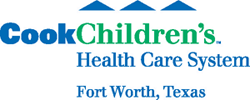 Mission: Cook Children's Health Care System(CCHCS) is an integrated delivery organization dedicated to providing quality health care and improving the well-being of children.
Cook Children's Medical Center (CCMC), the cornerstone component of CCHCS, is a private, 282-bed, pediatric health care center. More than 200 board-certified or board-eligible pediatricians, pediatric sub specialists, family practitioners, and dentists provide services to our pediatric community. Additionally, CCHCS currently operates 5 primary care clinics in underserved areas of the local community, 296 primary care and specialty pediatric practices in the local and west Texas areas, 5 specialty care clinics in rural and/or underserved areas, and Cook Children's Home Health. CCMC is the only tertiary children's hospital between Fort Worth, Texas and the state of New Mexico, encompassing over 100,000 square miles in a 110 county area in north central and west Texas. Comprehensive health care services are provided to children between the ages of 0 to 18 years.
CCMC provides tertiary and quaternary services in more than 35 specialty areas including nationally recognized programs for Neonatology, Pediatric Intensive Care, Trauma, Hematology/Oncology, Cardiology, Cardiothoracic Surgery and Pulmonology. The Bone Marrow and Stem Cell Transplantation Program is the largest pediatric transplant program in the state of Texas and southern United States. The Heart Center has one of the largest cardiac surgery volumes in Texas.
CCHCS strives to promote the health and well being of children and families in North Central Texas. This effort is enhanced by facilitating children's' access to leading clinical research opportunities. Since 1982, clinical therapeutic research has been conducted primarily in the Hematology/Oncology division in collaboration with the Children's Oncology group. However, in recent years a growing trend toward clinical research participation has developed throughout most CCHCS primary care and specialty sections.
Trials have been conducted with the following industry sponsors:
AAIPharma
Abbott Laboratories
ADMA Biologics
AGA Medical Corporation
Alcon
AstraZeneca
Bayer
Bristol-Myers Squibb
Cangene Corporation
Cubist Pharmaceuticals
Eli Lily
Genentech
Gentium, S.P.A.
GlaxoSmithKline
King Pharmaceuticals Research and Development, Inc.
Medtronic
Merck
Novartis Pharmaceutical
Ovation Pharmaceuticals
Pfizer
Proctor & Gamble Pharmaceuticals
Protherics, Inc.
Roche Laboratories
Sanofi Pasteur
Sanofi Aventis
Schering-Plough
Tibotec Pharmaceuticals Ltd.
UCB Pharmaceutical Inc
Cook Children's Physician Network is the largest pediatric physician network in North Texas with approximately 250 physicians. The network includes pediatric specialists and primary care physicians with a varying degree of research experience.
The Research Operations Department offers an initial point of contact for sponsors seeking study placement and assistance with matching protocols with potential investigators.
Some therapeutic areas at CCMC have research staff dedicated to that area. However, clinical research coordinators are also available via the Research Operations Department (Research Administration Office) on a fee-for-service basis to provide support for research activities in all CCHCS inpatient and outpatient facilities and local community PCP offices. Research Operations services include initial study placement procedures, review and negotiation of trial budgets, preparation of IRB submission documents, assistance with recruitment of study patients, and completion of protocol requirements as delegated by the Investigator. The Research Operations Department coordinators are encouraged to obtain certification.
CCMC provides comprehensive health care services to children between the ages of 0 to 18 years. The CCHCS referral area encompasses over 100,000 square miles in a 110-county area in north central and west Texas. This vast geographic area is home to more than 1.2 million children under the age of 15. In fiscal year 2003, CCHCS and CCMC recorded nearly 300,000 patient visits and over 8,000 hospital admissions. The demographics of the pediatric population served was widely variable, including approximately 14% African-American, 1% Asian, <1% American Indian, 56% Caucasian, and 24% Hispanic. A total of 45% of Cook Children's patients were female and 55% were males.
Cardiology/Vascular Diseases
Hematology
Immunology/Infectious Diseases
Nephrology/Urology
Neurology
Oncology
Pediatrics/Neonatology
Pulmonary/Respiratory Diseases

CCMC has the ability to conduct both inpatient and outpatient trials involving healthy children and those afflicted by virtually all pediatric disorders using a full complement of state-of-the-art diagnostic and therapeutic techniques. Cook Children's Medical Center holds a Gold Seal of Approval * for hospital services from the Joint Commission on Accreditation of Healthcare Organizations (JCAHO). Cook Children's Medical Center received a score of 97 and is Accredited With Full Standards Compliance, August 2003. CCMC has dedicated research pharmacists and laboratory technicians providing optimal efficiency and accuracy.
The main hospital campus is located on the western side of the Dallas-Fort Worth Metroplex approximately 40 minutes from the DFW airport. Major interstate and rail lines serve the entire region.
Leigh Donahue, RN, MBA, CCRC
Director, Research Operations
Cook Children's Health Care System
801 Seventh Avenue
Fort Worth, TX 76104
USA
682-885-7491
682-885-6722 (fax)
Leigh.Donahue@cookchildrens.org
www.cookchildrens.org



We've found
3 trials
at this facility
Other Clinical Trial
The Pediatric Anesthesia Quality Improvement Project
Status:
Enrolling, Phase
Updated:
12/31/1969
Click here to add this to my saved trials

Hepatitis C Virus Infection Clinical Trial
A Registry for Adolescent and Pediatric Participants Who Received a Gilead Hepatitis C Virus Direct Acting Antiviral (DAA) in Gilead-Sponsored Chronic Hepatitis C Infection Trials
Status:
Enrolling, Phase
Updated:
12/31/1969
Click here to add this to my saved trials

Adenovirus Clinical Trial
Expanded Access Protocol to Provide Brincidofovir for the Treatment of Serious Adenovirus Infection or Disease
Status:
Enrolling, Phase
Updated:
12/31/1969
Click here to add this to my saved trials