Driscoll Children's Hospital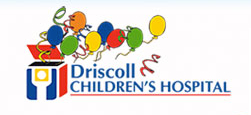 Driscoll Children's Hospital was built because Clara Driscoll's will requested that a fund be created to maintain a charitable hospital for indigent children.
Her will also called for the creation of the Robert Driscoll and Julia Driscoll and Robert Driscoll Jr. Foundation. The foundation was to be run by trustees who would be in charge of handling the assets and taking care of the hospital, financially.
With the help of Clara Driscoll's physician, McIver Furman, M.D., the hospital on Alameda opened in 1953 and in 1970 had its status changed from charity only to not for profit, so that it could provide care to all children in South Texas.
The Hospital has grown from a 25-bed facility to one that has a medical staff comprised of pediatric specialists in more than 32 medical and 13 surgical specialties. Working with the Medical Staff is more than 1,800 employees including more than 450 nurses. Every year approximately 6,500 children are admitted for inpatient care, more than 3,500 patients for day surgery, and 132,000 children for outpatient care. Driscoll was the first hospital in South Texas to provide emergency services exclusively for children and today we provide emergency care to approximately 40,000 children a year. Driscoll was also the first hospital in south Texas to perform an organ transplant.
We've found
31 trials
at this facility