Upstate Carolina CCOP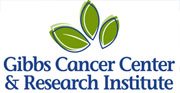 Spartanburg Regional is one of the original 50 sites selected for the NCI Community Clinical Oncology Program in 1983. Today, our program, the Upstate Carolina CCOP (UC-CCOP), is based in the hospital's Gibbs Cancer Center. The ongoing mission of UC-CCOP is to assure that every person in the region served is provided an opportunity for participation in a national cancer prevention and/or treatment clinical trial.
UC-CCOP has nine Research Base affiliations, Southwest Oncology Group (SWOG), Gynecologic Oncology Group (GOG), North Central Cancer Treatment Group (NCCTG), National Surgical Breast and Bowel Project (NSABP), Radiation Therapy Oncology Group (RTOG), M. D. Anderson, Suncoast at the University of South Florida (SFUCC), formally Moffitt, University of Rochester Cancer Center, (URCC) Comprehensive Cancer Center of Wake Forest University (CCCWFU) and the Clinical Trials Support Unit (CTSU). Currently, UC-CCOP maintains over 100 active NCI clinical trials.
Upstate Carolina CCOP conducts cancer treatment, prevention and control clinical trials to gather critical information that will strengthen its ability to treat cancer and eventually prevent it. A variety of physician investigators participate in clinical trials through UC-CCOP, including medical, radiation and surgical oncologists, as well as pathologists, radiologists, surgeons, gastroenterologists, urologists and gynecologists. Our CCOP participation exposes our patients to the benefits of a major research hospital.
We are also the only hospital in South Carolina to have a direct affiliation with NCI-designated facilities M. D. Anderson Cancer Center and Medical University of South Carolina Hollings Cancer Center, which allows us to expand our research capabilities even farther. This relationship provides our patients with access to even more clinical expertise and to the latest drugs and experimental trials available.
We've found
4 trials
at this facility