Carolina Urologic Research Center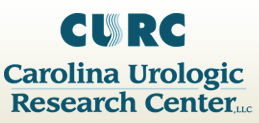 Carolina Urologic Research Center (CURC) has been recognized both nationally and internationally as one of the most progressive and respected clinical research sites in the United States. CURC employs a highly skilled and group of healthcare professionals, including 5 board-certified urologists and 7 full time research coordinators. Over the last 12 years, we have participated in over 200 national and international clinical research trials for patients with various urologic conditions. Our areas of specialty include but are not limited to prostate cancer, bladder cancer, renal cell carcinoma, overactive bladder, BPH (enlarged non-cancerous prostate), erectile dysfunction, kidney stones, urinary tract infections, urinary incontinence, as well as blood and biomarker studies.
Our mission at Carolina Urologic Research Center is to provide cutting edge urologic treatments and therapies to our patients, especially when tradional standards of care have been exhausted. We believe that groundbreaking advances in healthcare are made possible by conducting quality clinical research trials. We are very proud of the service we provide, and are driven by the desire to improve and enrich the lives of our patients. We are grateful to the many participants and their families who have contributed to this effort.
We've found
23 trials
at this facility