Legacy Emanuel Hospital and Health Center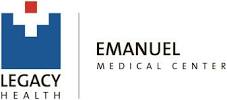 Legacy Emanuel is nationally known for expertise in critical health conditions and features specialists in virtually every field of medicine.
Legacy Emanuel Medical Center, founded in 1912, plays a vital role in the Portland metropolitan area and in the Pacific Northwest region as a medical center with around-the-clock expertise for critical health conditions while giving the feel of a community hospital. Legacy Emanuel offers a range of specialized care.
We've found
6 trials
at this facility