Creighton University Medical Center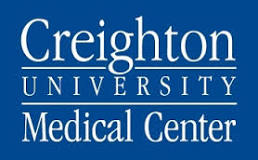 St. Joseph's Mercy Hospital was founded on September 25, 1870 at 12th and Mason Streets by the Sisters of Mercy.[2][3] This hospital was a plain wood frame building with two wards and ten rooms.[2] In 1880, the Sisters of St. Francis took over management of the hospital and renamed it The Creighton Memorial Hospital.[3] By 1882 an addition was required to keep up with care demands.[2]
In 1892, John A. Creighton established the John A. Creighton Medical College along with a 200-bed hospital.[4] The new hospital was built at 10th and Castelar Streets at a cost of $200,000, and was called The Creighton Memorial St. Joseph Hospital.[2][3] At this time, the hospital became the primary resource for clinical instruction in the medical school.[4] Several additions to the building were made at this location over the years.
In 1978 the hospital moved to its present facitily at 30th and California Streets.[4]
The hospital is the teaching hospital for the College of Medicine, College of Pharmacy, College of Nursing, College of Dentistry and the College of Health Careers.
The hospital has gone through several name changes beginning as Creighton Memorial, Saint Joseph Hospital, Saint Joseph Hospital at Creighton University Medical Center, Creighton University Medical Center, and most recently Alegent Creighton Health.
We've found
58 trials
at this facility