St. James Healthcare Cancer Care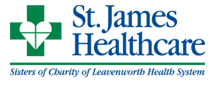 The St. James Cancer Center is an integrated cancer treatment facility with Radiation Oncology, Medical Oncology (chemotherapy), Hemotology and laboratory services together in one central location. Our physically integrated center promotes a team approach to cancer treatment in a healing environment.
At the St.James Cancer Center, we provide care for the whole patient, not just the treatment of their cancer. Our patients have access to a pool of oncology resources and programs led by health professionals who continually develop and expand their knowledge in the treatment of cancer.
St. James Cancer Care Center is the regional leader in the prevention of and fight against cancer. Along with our highly skilled doctors and staff, we partner with our patients and our community by offering the latest in medicine and technology.
We've found
3 trials
at this facility
Breast Cancer Clinical Trial
Paclitaxel Albumin-Stabilized Nanoparticle Formulation, Doxorubicin, Cyclophosphamide, and Pegfilgrastim With or Without Bevacizumab in Treating Women With Inflammatory or Locally Advanced Breast Cancer
Status:
Enrolling
Updated:
9/20/2012
Click here to add this to my saved trials

Breast Cancer Clinical Trial
Tamoxifen Citrate in Treating Patients With Metastatic or Recurrent Breast Cancer
Status:
Enrolling, Phase II
Updated:
12/6/2012
Click here to add this to my saved trials

Leukemia Clinical Trial
Clofarabine or Daunorubicin Hydrochloride and Cytarabine Followed By Decitabine or Observation in Treating Older Patients With Newly Diagnosed Acute Myeloid Leukemia
Status:
Enrolling, Phase III
Updated:
7/24/2014
Click here to add this to my saved trials