Saint Luke's Hospital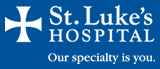 St. Luke's Hospital, located in Chesterfield, Missouri, is a regional healthcare provider committed to improving the quality of life for patients and the community. The 493-bed, not-for-profit hospital offers more than 60 specialty areas includingcardiovascular care and surgery,cancer care,neurosurgery and neurology,orthopedics,maternity and otherwomen's health, general medicine, outpatient services,pediatrics and comprehensive surgical services.
St. Luke's is the only St. Louis hospital recognized as one of America's 50 Best Hospitals™ by Healthgrades® (2007-2014) , ranking among the top one percent in the nation based on superior clinical quality.
St. Luke's Hospital is also a member of the Spirit of Women® Health Network, an elite coalition of hospitals and healthcare providers across the United States that ascribes to the highest standards of excellence in women's health, education and community outreach. Spirit of Women hospitals are committed to making good health easier and helping women and their families take action resulting in better health. St. Luke's is proud to be the only Spirit of Women hospital in the St. Louis area.
We've found
23 trials
at this facility