Metro-Minnesota CCOP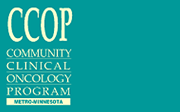 The Metro-Minnesota Community Clinical Oncology (MMCCOP) was established in 1979 through an NCI-funded Community Hospital Cancer Program (CHCP) Award. This same consortium of seven community hospitals in Minneapolis received one of the initial Community Clinical Oncology Program (CCOP) grant awards from the NCI in 1983, and has received subsequent CCOP grants since that time.
The MMCCOP consortium represents 19 hospitals and clinics in the metropolitan area of Minneapolis, St. Paul and surrounding suburbs and communities south and west of the area, with a common approach and established mechanisms for identifying, enrolling and following participants on NCI-sponsored treatment, cancer prevention and cancer control protocols. MMCCOP links community cancer specialists, primary care physicians and other health care professionals to cancer clinical trials. There are over 140 Investigators, representing medical, radiation and surgical oncology including neuro-surgery, thoracic surgery and gynecologic oncology, urology, and ENT. Combined, the consortium members see approximately 16,000 new analytic cancer patients per year. On average, over 200 patients per year are enrolled in NCI Cooperative Group treatment trials, and an average of 300 patients per year participate in cancer prevention and symptom management studies.
MMCCOP provides the community with the most recent advances in cancer prevention, treatment and symptom management through multiple NCI Cooperative Group Research Base affiliations including CTSU, ECOG, NCCTG, GOG, M. D. Anderson, NSABP, RTOG, URCC and CCCWFU. All member sites are affiliated with the Institutional Review Board for the Community Oncology Programs, administered by Park Nicollet Institute, which facilitates centralized review and oversight of all studies conducted by the MMCCOP consortium.
We've found
6 trials
at this facility