St. Joseph Mercy Oakland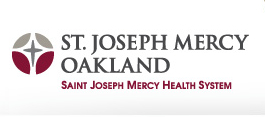 St. Joseph Mercy Oakland (SJMO) is a 443-bed comprehensive, community and teaching hospital and a long-time leader in health care in Oakland County. The hospital is located on the west side of Woodward, just north of Square Lake Road in Pontiac, Michigan.
Our address is 44405 Woodward Avenue, Pontiac, MI 48341. Need Directions?
Please feel free to call us at: (248) 858-3000
It is a member of the Saint Joseph Mercy Health System, a subsidiary of Trinity Health, the country's fourth largest Catholic health care system. A member of the Pontiac community for more than 80 years, SJMO's $54.5 million renovation and expansion of its west wing demonstrate its commitment to meeting the needs of the community. Our new, two-story, 50,000-square-foot Surgical Pavilion enables us to combine advanced technology with compassionate care to create a unique healing environment.
A different experience The St. Joseph Mercy Oakland (SJMO) experience is different from that of other hospitals and is what makes SJMO a leading health care institution.
We've found
12 trials
at this facility