West Michigan Cancer Center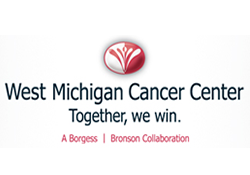 In 1994, Borgess Health Alliance and Bronson Healthcare Group opened the doors of West Michigan Cancer Center (WMCC) to the residents of Kalamazoo and surrounding counties. This fulfilled the hospitals' joint vision to provide a state-of-the-art cancer treatment facility for the community. The new cancer center immediately made a lasting and positive difference in the health and lives of area residents.The collaboration ensured that the best treatment capabilities, which were also the most expensive, could be acquired through cost sharing. The community is the primary beneficiary, with a cancer center that rivals the most advanced academic centers anywhere.
Today, WMCC sees more than 3, 000 new patients annually and averages nearly 120,000 patient visits. Through continuing investments in technology and clinical excellence patients are experiencing benefits of earlier detection and more effective treatment procedures. As a result, we are able to treat and beat more cancers, and ensure a better quality of life for cancer survivors.
WMCC employs more than 200 people who together have created a totally unique clinical environment to ensure the most effective fight against the disease. Our doctors, nurses and staff inspire hope and confidence through their attitudes and outlooks. Happily, it isn't just wishful thinking. We are winning against more types of cancers today than at any other time in history.
We've found
96 trials
at this facility