Genesys Hurley Cancer Institute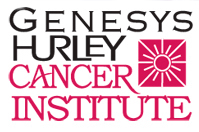 Bringing the most advanced cancer treatment services, technologies and programs available to one convenient location, close to home.


The Genesys Hurley Cancer Institute stands on the combined strength of Genesys Regional Medical Center and Hurley Medical Center. It is a partnership, completely focused on patient care of unsurpassed excellence.


From aggressive prevention programs and early detection services to the application of leading edge diagnostics and treatment techniques, the Genesys Hurley Cancer Institute infuses hope into the heart of our community.


Positive outcomes require the best. Starting with a team of highly qualified physicians coupled with an outstanding technical and professional staff, the best has been assembled right here in our own backyard.


For thousands of cancer patients in our area, this wonderful news promises millions of brighter tomorrows.
We've found
73 trials
at this facility