Boston University Medical Center
1 Boston Medical Center Place
Boston, Massachusetts 02118
617.638.8000
http://www.bmc.org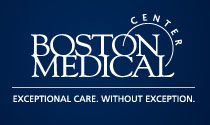 Boston Medical Center is an extraordinary community of health care providers devoted to the proposition that every person, regardless of his or her social or economic circumstances, deserves the best health care.
Our mission is simple: to provide exceptional care, without exception.
BMC provides superior, comprehensive care in virtually every medical specialty. Our physicians are leaders in their fields with the most advanced medical technology at their fingertips and a highly-skilled nursing and professional staff working with them side-by-side. No matter who you meet at BMC - from the x-ray technologist to the critical care nurse, the admissions staff to the chief of surgery - all are committed to providing top-notch care to every patient and family member with respect, warmth and compassion.
Located in Boston's historic South End neighborhood, BMC is a private, not-for-profit, 496-bed, academic medical center and the primary teaching affiliate for Boston University School of Medicine. Consistent with its mission to provide the best in health care to all, BMC is the largest safety net hospital in New England and reaches into the community as a founding partner of Boston HealthNet, a network of 15 community health centers through Boston serving more than a quarter million people annually.
By combining a commitment to uncompromising excellence with a commitment to caring for those most in need, BMC has become a national model of care, and caring, for all.
We've found
23 trials
at this facility