Peninsula Regional Medical Center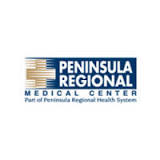 The not-for-profit Peninsula Regional Medical Center in Salisbury, Maryland offers the widest array of specialty and subspecialty services on the Delmarva Peninsula. As part of the Peninsula Regional Health System, which in addition to the Medical Center includes a Foundation, a network of primary care and physician specialty practices located throughout the service area, an ambulatory surgery center and a number of post acute care joint venture partners, Peninsula Regional has been providing care for over 117 years.
Peninsula Regional Medical Center provides a full range of services that rival those offered in much larger metropolitan areas. It has received over 125 national awards, certifications and recognitions over the past six years for the safety and care it provides patients and the outcomes they experience. It's Exceptional Healthcare provided by Exceptional People.
At 275 acute care beds, Peninsula Regional is the region's largest, most advanced tertiary care facility, and has been meeting the healthcare needs of Delmarva Peninsula residents since 1897. Its 3,300 physicians, staff and volunteers provide safe, compassionate and affordable care designed to exceed the expectations of the nearly 500,000 patients who rely on the Medical Center team each year for inpatient, outpatient, diagnostic, subacute and emergency/trauma services. It is the region's oldest healthcare institution with the most experienced team of healthcare professionals.
Peninsula Regional is an affiliate of the elite Johns Hopkins Clinical Research Network (JHCRN), a group of academic and community-based clinical researchers designed to provide new opportunities for research collaborations and accelerate the transfer of new diagnostic, treatment, and disease prevention advances from the research arena to patient care.
We've found
31 trials
at this facility