Kennedy Krieger Institute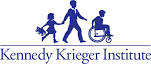 While not officially part of Johns Hopkins Medicine, Kennedy Krieger Institute is a partner with which we share faculty, collaborate on research and send some patients for rehabilitation. The Institute is adjacent to our East Baltimore campus.
Kennedy Krieger Institute is an internationally recognized facility dedicated to improving the lives of children and adolescents with pediatric developmental disabilities through patient care, special education, research, and professional training.
We've found
20 trials
at this facility