Ochsner Medical Center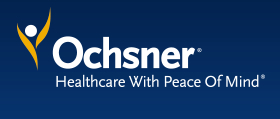 Ochsner Medical Center is located near uptown New Orleans and includes acute and sub-acute facilities; centers of excellence Ochsner Cancer Institute, Ochsner Multi-Organ Transplant Center and Ochsner Heart and Vascular Institute. Ochsner employs over 600 physicians in 80 medical specialties and subspecialties.
Ochsner Health System is a non-profit, academic, multi-specialty, healthcare system. Our commitment to patient care, education and research, and our unique coordinated neighborhood-based system that provides healthcare with peace of mind by putting the needs of all patients first. Ochsner continuously meets the ever-changing needs of our patients and community through electronically-linked hospitals and health centers. Our patient's electronic medical records are available from any Ochsner location allowing for the most consistent patient care, both for routine health needs and more complex medical conditions. As a 473-bed acute care hospital, it offers the opportunity to learn and provide patient care at a Magnet facility with three Centers of Excellence, all the while gaining exposure to complex medical cases. This campus is also one of six training sites in the world for robotic surgery and is nationally-renown for many skilled physicians.
We've found
48 trials
at this facility