Mason District Hospital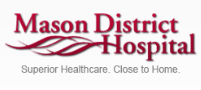 Mason District Hospital is dedicated to providing superior healthcare close to home to the communities it serves in Mason and southern Fulton Counties. As a rural critical access hospital, our expertise lies in providing services driven by the health needs of our community. Mason District has grown since 1957 to keep pace with the changing needs of our patients and the rapid advances in medical technology and healthcare delivery.
Our medical staff of physicians is supported by a team of healthcare professionals and sophisticated diagnostic and treatment capabilities, including our full service emergency department, physician and specialty clinics, including oncology and orthopedics, and a full rehabilitation department including physical, occupational and speech therapies, as well as cardiac and pulmonary rehabilitation.
We've found
3 trials
at this facility
Breast Cancer Clinical Trial
Paclitaxel Albumin-Stabilized Nanoparticle Formulation, Doxorubicin, Cyclophosphamide, and Pegfilgrastim With or Without Bevacizumab in Treating Women With Inflammatory or Locally Advanced Breast Cancer
Status:
Enrolling
Updated:
9/20/2012
Click here to add this to my saved trials

Lung Cancer Clinical Trial
Radiation Therapy Regimens in Treating Patients With Limited-Stage Small Cell Lung Cancer Receiving Cisplatin and Etoposide
Status:
Enrolling, Phase III
Updated:
12/31/1969
Click here to add this to my saved trials

Esophageal Cancer Clinical Trial
Combination Chemotherapy and Cetuximab in Treating Patients With Metastatic Esophageal Cancer or Gastroesophageal Junction Cancer
Status:
Enrolling, Phase II
Updated:
3/15/2011
Click here to add this to my saved trials