Memorial Health University Medical Center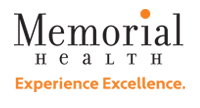 Memorial University Medical Center (MUMC) is a nonprofit, 622-bed tertiary care hospital in Savannah, Georgia. We opened our doors in 1955 and have evolved into the most advanced healthcare provider in the region. We are a regional referral center for cardiac care, cancer care, trauma, pediatrics, high-risk obstetrics, and neonatology. Our hospital includes the region's only Level 1trauma center, the region's only children's hospital, a state-of-the-art laboratory where scientists conduct research on the molecular genetics of cancer, and the Savannah campus of Mercer University School of Medicine.
Memorial University Medical Center is part of the award-winning Memorial Health system, a two-state healthcare organization serving a 35-county area in southeast Georgia and southern South Carolina. In addition to MUMC, our system includes physician networks, business and industry services, and NurseOne , our 24-hour call center. We also offer a major medical education program that provides physician residency training in diagnostic radiology, family medicine, internal medicine, obstetrics and gynecology, pediatrics, and surgery.
In 2013, MUMC had 26,194 admissions and 246,281 outpatient visits. We performed 20,770 surgeries and delivered 2,736 babies. We had 95,018 emergency department visits. We also trained 141 resident physicians. Memorial University Medical Center is one of the largest employers in the region, with approximately 4,000 Team Members. In addition, we provide more charity care than any other healthcare provider in the region.
Memorial University Medical Center has earned prestigious local, regional, and national accolades. We pride ourselves on being forward-thinking and proactive in healthcare public policy and patient safety. At MUMC, we are not content with business as usual. Our goal is to create a new standard for excellence in healthcare that will not only serve our current patients, but also change the future of medicine.
We've found
54 trials
at this facility