John Wayne Cancer Institute
2200 Santa Monica Blvd
Santa Monica, California 90404
(310) 582-7438
http://www.jwci.org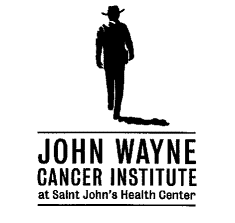 Celebrating over 25 years, the John Wayne Cancer Institute (JWCI) has become one of the premier cancer research and treatment centers in the nation. Discoveries made by the research team at JWCI have impact in the international cancer community. Our scientists work closely with all institute departments to ensure research is being supported in the highest manner possible. Through collaboration with scientists across the nation as well as participation in international conferences and symposiums, JWCI researchers stay at the forefront of international cancer research.
John Wayne Cancer Institute (JWCI) has established a reputation for conducting clinical trials efficiently and effectively. Our investigators are experienced with clinical trials and have a broad range of cancer specialties. We also have experienced clinical research coordinators, research nurse staff, research assistants, and support staff. Biostatistical assistance and study analysis is available through the Institute, as well as research assistance for preparation of institutional review board and other regulatory documentation. We are also very experienced in budget preparation, contract negotiation, and study implementation. The free-standing research facility at the John Wayne Cancer Institute includes specialized research units, among which are laboratories in molecular oncology, molecular therapeutics, experimental therapeutics, glyco-immunotherapy, immunodiagnosis, endocrine/bone disease and biotechnology. One of the most important components of our ongoing research is the various databases that we have created. Our databases include: a patient database, an immunotherapy database and a cryopreserved specimen bank containing over a million specimens. These different databases are crucial to our ongoing research and collaboration with other scientists. We offer investigator site and management services to the biotechnology, pharmaceutical, and medical device industries. Our experienced research coordinators actively participate in each study we manage and coordinate for local investigators. Our staff is experienced in utilizing Remote Data Entry and we have the technology and equipment to accommodate RDE studies.
The investigators of the John Wayne Cancer Institute have initiated and participated in international, multi-center trials in their search for answers to scientific questions. The John Wayne Cancer Institute is experienced in conducting Phase II-IV clinical trials, evaluating a myriad of oncology areas. JWCI gives patients access to investigational drugs, innovative procedures, and new therapies with the trust and safety of well established professionals in their therapeutic arenas. JWCI investigators specialize in Breast/Endocrine, Colon/Gastrointestinal, Melanoma, Pancreatic, and Neurological cancers.
John Wayne Cancer Institute is comprised of numerous, high-profile clinical research physicians and surgeons practicing in AMCs, non-AMCs, and in high volume outpatient offices. Our investigators are board certified and regularly engage in clinical research studies.
Donald Morton, MD, Chief, Melanoma Program

Area of Research: Melanoma, Site-specific metastasis, cytoreductive surgery, therapeutic vaccines, immunomodulation

Armando E. Giuliano, M.D., Chief of Science and Medicine, Director, John Wayne Cancer Institute Breast Center, ACOSOG member

Area of Research: Benign and malignant breast disease, thyroid cancer, parathyroid cancer, proteomics, surgical improvement and outcomes

Myles C. Cabot, Ph.D., Director, Experimental Therapeutics

Area of Research: Chemotherapy resistance, hormone and growth factor signaling, antiestrogens, mechanism of drug action, lipid metabolism

Alice P. Chung, M.D., Assistant Director, John Wayne Cancer Institute Breast Center

Area of Research: Benign and malignant breast disease, breast imaging, role of molecular oncology in breast cancer progression

Xiaojiang Cui, Ph.D., Assistant Member, Molecular Oncology/Breast Translational Research

Area of Research: Cancer Progression and Metastasis, Cancer Therapeutic Resistance and Novel Therapeutic Strategies

Mark Faries, M.D. ,Director, Translational Tumor Immunology

Area of Research: Melanoma, Cancer immunotherapy, immune response, clinical trials

Valerie Gouaze-Andersson, Ph.D., Assistant Member, Experimental Therapeutics

Area of Research: Lipid metabolism, oxidative stress, chemotherapy resistance and cell death.

Nancy C. Greep, M.D., Associate Director, Endocrine/Bone Disease Program

Area of Research: Osteoporosis, Menopause, Hyperparathyroidism

Dave S. Hoon, M.Sc., Ph.D., Director, Department Molecular Oncology

Area of Research: Molecular/genetic biomarkers, tumor-related genomic aberrations, molecular upstaging of sentinel lymph nodes in solid tumors, novel molecular therapeutic approaches using gene vaccines, identification of molecular targets for chemoprevention.

Reiko Irie, M.D. , Director, Biotechnology Science

Area of Research: Human monoclonal antibodies

Daniel F. Kelly, M.D., Director, Brain Tumor Center

Area of Research: Minimally invasive surgery, quality of life studies, pituitary hormonal recovery and traumatic brain injury.

Myung Shin Sim, Dr.PH, Assistant Member, Biostatistics Department

Area of Research: Statistical Analysis, Study Design and Modeling Vaccine Effect

Frederick Singer, M.D., Director, Endocrine/Bone Disease Program

Area of Research: Primary hyperthyroidism, Paget's disease of bone, osteoporosis, tumor markers

Gagandeep Singh, M.D., Director, Liver and Pancreas Center

Area of Research: Gene therapy strategies for cancer, mechanisms of hepatic gene transfer, and developing technical innovations in hepatic and pancreatic surgery.
Many of our investigators are also available, beyond investigator meetings, to provide significant pre-study protocol input. JWCI encourages investigators to convey in-study ideas to sponsors to help enhance study outcomes.
All John Wayne Cancer Institute study staff receives training in HIPPA and ICH guidelines. Ongoing training is provided throughout the year to research staff to keep them informed and updated on any changes to the guidelines.

The John Wayne Cancer Institute at Saint John's Health Center is located in Santa Monica, a suburb of Los Angeles and has access to a large patient population. 2006 demographic data showed that among this population are Whites (62.4%), Hispanics (16.4%), Asians and Pacific Islanders (11.5%), Blacks (5.9%), and others (3.8%) as well as 49% male and 51% female.

John Wayne Cancer Institute at Saint John's Health Center is conveniently located close to Los Angeles, Santa Monica, Burbank and Van Nuys airports, situated within the multicultural Los Angeles population. The largest patient populations are ages 35-54 (32%), 25-34 (17.5%) and 65+ (13.6%). The professional reputation of the John Wayne Cancer Institute physicians routinely brings in patients from across the country. In addition, JWCI performs studies within a large radius reaching north to Bakersfield, east to Riverside/San Bernardino and south to San Diego to treat patients within the local communities.
Lodging and restaurants are conveniently located for ease of site qualification, monitor and other study staff visits. JWCI's immediate campus includes Saint John's Health Center and all the facilities that the full-service hospital has to offer.
John Wayne Cancer Institute Office Complex and Institute Building:
Secured, double-locked ambient and refrigerated study drug storage.
Secured medical records storage.
Secured CRF archive storage.
State-of-the-art conference center with multimedia equipment
Medical library for scientific discussion and reference.
Valet parking for patients visiting the clinic
State-of-the-art, dedicated computer servers, and in-house Information Technology (IT) department.
JWCI Laboratories:
On-site clinical research laboratory with full staff, offices, cold room, freezers, centrifuges and complete immunological, biochemical and molecular labs.
On-site histopathology labs including cryomicrotome and full histology preparation labs.
JWCI Clinic/Saint John's Health Center Equipment:
CT Scan
MRI
Endoscopy
DEXA Scanning
X-Ray
Ultrasound
Specialty Labs
Medical & Surgical ICU's
Treadmills
EKG
Telemetry
Nuclear Medicine
Da Vinci Robot
Dedicated Breast Cancer Clinic
CLIA- and CAP-approved laboratory
Saint John's Health Center is fully accredited by Joint Commission for the Accreditation of Health Care Organizations (JCAHO)
At Saint John's Health Center, the gracefully curving, four-story inpatient facility combines the latest medical technology with innovations in patient care-giving environments, and in addition, opening in August 2009 is the Howard Keck Diagnostic and Treatment Center, a 275,000-square-foot, four-story treatment facility that will house a state-of-the-art Emergency Department, surgery rooms with the latest technologies, and imaging centers to meet both in and out-patient needs.
Rebecca Sanchez
Clinical Research Coordinator
John Wayne Cancer Institute
2200 Santa Monica Blvd
Santa Monica, CA 90404
USA
(310) 582-7438
(310) 582-7022 (fax)
www.jwci.org


We've found
22 trials
at this facility