CCOP - Bay Area Tumor Institute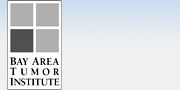 he Bay Area Tumor Institute Community Clinical Oncology Program (BATI-CCOP) is a consortium of 6 community and county hospitals in Greater Oakland, California. It was founded in 1979 as a CGOP and converted to CCOP status in 1989. With a special emphasis on the recruitment of minority, low income, pediatric, non-English-speaking and female populations in three Bay Area Counties. The BATI-CCOP enables cancer patients and the general "at risk" populations to participate in the clinical, cancer control, and prevention research of CALGB, SWOG, NSABP, RTOG, CTSU, COG and Suncoast.
The BATI-CCOP offers a successful long-term track record, an organized and committed medical community, experienced physician investigators, institutional and financial support from the Bay Area Tumor Institute, and unusual access to African American, Hispanic, Asian, pediatric, underserved and female populations. The key personnel are: James H. Feusner, MD (PI), Jon Greif, DO, FACS (Co-PI), and Sharon Omega, CRA. These and other CCOP physicians and staff members each have 5 to 35 years of experience in community clinical research organization and implementation. They are deeply experienced in organizing hospitals and physicians into a consortium, interacting with research bases, working with hospital IRB's and OHRP, managing data and drug distribution, and all other facets of community based clinical trials.
We've found
1 trials
at this facility
Breast Cancer Clinical Trial
Paclitaxel Albumin-Stabilized Nanoparticle Formulation, Doxorubicin, Cyclophosphamide, and Pegfilgrastim With or Without Bevacizumab in Treating Women With Inflammatory or Locally Advanced Breast Cancer
Status:
Enrolling
Updated:
9/20/2012
Click here to add this to my saved trials