A Study of Indoximod in Combination With (7+3) Chemotherapy in Patients With Newly Diagnosed Acute Myeloid Leukemia
| | |
| --- | --- |
| Status: | Recruiting |
| Conditions: | Blood Cancer, Blood Cancer, Hematology |
| Therapuetic Areas: | Hematology, Oncology |
| Healthy: | No |
| Age Range: | 18 - Any |
| Updated: | 7/4/2018 |
| Start Date: | July 2016 |
| End Date: | July 2018 |
| Contact: | Chris Smith, MS |
| Email: | csmith@linkp.com |
| Phone: | 515-598-5020 |
A Phase 1 Trial of Indoximod in Combination With Idarubicin and Cytarabine in Patients With Newly Diagnosed Acute Myeloid Leukemia (AML)
The purpose of this study is to characterize the regimen limiting toxicities (RLT) and
recommended Phase 2 dose (RP2D) of indoximod in patients with newly diagnosed AML receiving
remission induction chemotherapy with cytarabine and idarubicin.

Inclusion Criteria:

- A histologically or pathologically confirmed diagnosis of AML based on WHO
classification with or without extramedullary disease except for central nervous
system disease.

- ECOG performance status ≤ 2

- Left ventricular ejection fraction (LVEF) ≥ 50%

- Female patients of childbearing potential must have a negative pregnancy test < 1 week
prior to enrollment.

- Ability to understand and willingness to sign a written informed consent document.

Exclusion Criteria:

- Patients receiving any other investigational agents or immunotherapy

- Patients who have received prior chemotherapy for AML with the exception of
hydroxyurea or leukapheresis for leukocytosis; prior hypomethylating or
immunomodulatory agents for MDS are allowed

- Previous allo-HSCT of any kind

- Active, uncontrolled infection including known hepatitis B or C

- Active autoimmune disease and chronic inflammatory conditions requiring concurrent use
of any systemic immunosuppressants or steroids.

- History of any other active cancer diagnosis

- Pregnant women

- Known HIV-infected patients

We found this trial at
3
sites
Baltimore, Maryland 21218
(410) 516-8000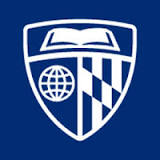 Principal Investigator: B. Douglas Smith, MD
Johns Hopkins The Johns Hopkins University opened in 1876, with the inauguration of its first...
Click here to add this to my saved trials

Principal Investigator: Jeremy Pantin, MD
Phone: 706-721-4430
Click here to add this to my saved trials

Baltimore, Maryland 20742
(301) 405-1000

Principal Investigator: Ashkan Emadi, M.D., Ph.D.
Phone: 410-328-2243
University of Maryland As a globally-connected university offering a world-class education, the University of Maryland...
Click here to add this to my saved trials